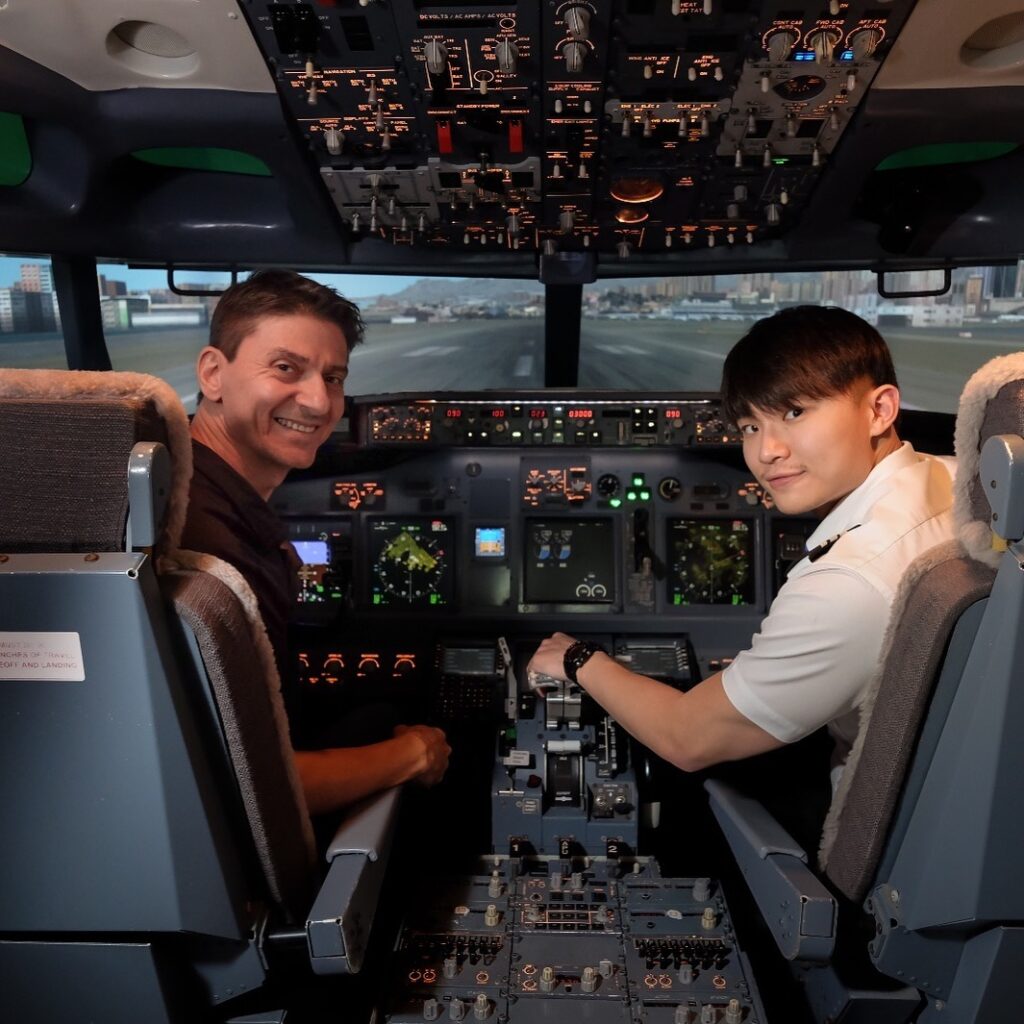 Experience what's like to command a commercial jet airline with Flight Experience Boeing 737 simulator. Used for real commercial pilot training, the Boeing 737 simulator is one of the best available to the public anywhere in the world
With the aide of a licensed commercial pilot, you will learn how to pilot a Boeing 737 and understand what it takes to be a commercial pilot!
30 Minutes Introduction Session
This intro level 737 experience is a fast-paced look at what it takes to be a commercial pilot. Learn the basic instrumentation and controls before taking off at an airport of your choice and conducting two approaches, a touch & go and a full stop landing. Perfect for younger aviation fans!
Includes:
Pre-flight briefing
2 Takeoffs & Landings (Day & Night Circuits)
1 Airport that you choose
1. Check-In 
On arrival to the Flight Experience™ store, present your personal boarding pass at the front counter. You'll be checked-in and introduced to your co-pilot.
2. Meet your first officer
Our flight instructor is your First Officer. All of our instructors are real pilots who have been trained in the Boeing 737 simulator and have a high-level of customer service and instructional skills.
3. Pre-flight briefing and flight plan
After assessing your level of expertise, your First Officer will help you choose your flight options and destinations. This includes a multi-media presentation and briefing video.
4. Boarding call
As the Captain, you will sit in the front left-hand seat while your passengers sit in the two jump-seats directly behind you. Strap in with your 5-point seat harness and real aircraft headsets. You're almost ready!
5. Ready for take-off
Your First Officer will brief you on the primary controls and instruments and then you're ready for take-off! With permission from Air Traffic Control, you advance the thrust levers and the aircraft hurtles down the runway.
6. Your flight experience
Your co-pilot calls out 'rotate' and you pull the control column back towards you and the nose wheel lifts off the runway…You're airborne, and you can start to relax and appreciate the stunningly realistic scenery.