Looking for some horsepower? Saddle up and get horse-riding with our ultimate guide to some of Singapore's best horse-riding lessons! 
Horse-riding, an activity once reserved for the elite society, have seen a growing interest among the public over the past decade. Today, horse-riding is an easily accessible and affordable sport in Singapore with many stables and clubs offering lessons for non-members.
Here are 5 stables in Singapore offering horse-riding lessons that will make you a cowboy in no time.
Jump to: Horse-Riding Lessons | Horse-riding FAQs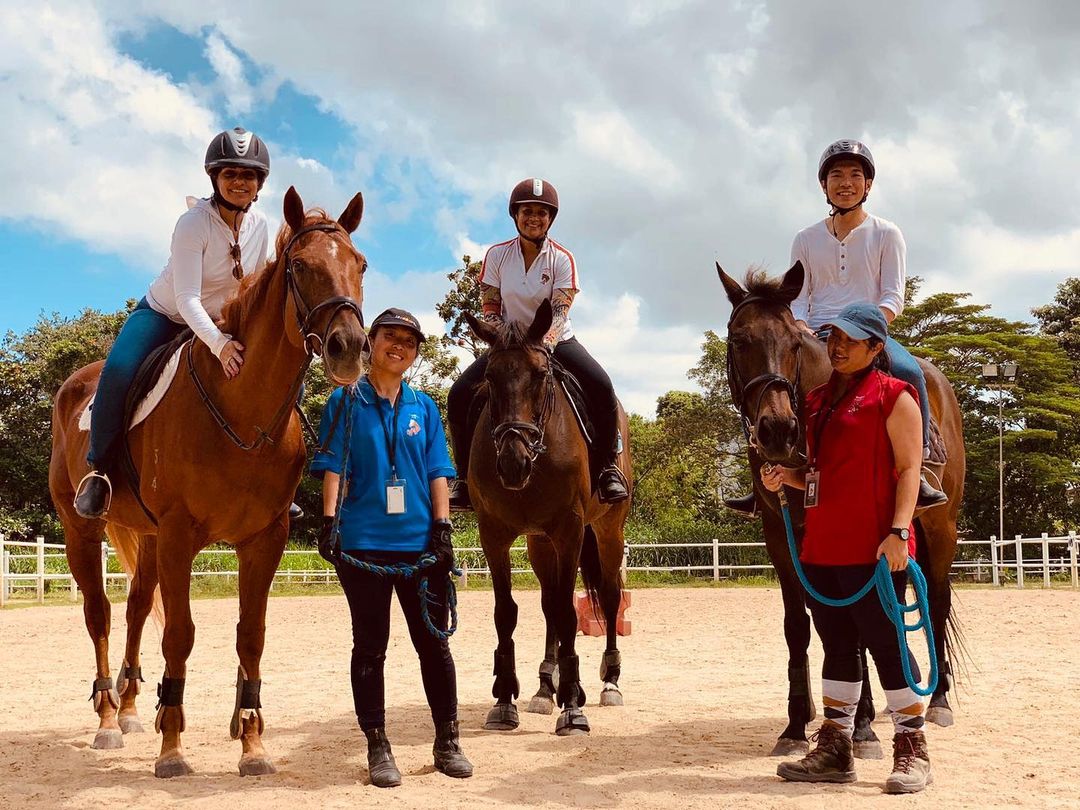 Opened in 2003, Gallop Stable focuses on providing leisure horse-riding activities to the public. Most of Gallop Stable's horses are ex-racehorses which were retired from the racing scene due to injuries or a lack of ability.
At the stable, children may opt for a pony playdate which includes grooming, feeding, a joy ride and a photo-taking session. Those looking to learn horse-riding may opt for the different basic riding workshop which last from 2 hours to 4 weeks.
Other activities offered by Gallop Shoot include riding camps, a behind-the-scenes tour of the stable and wedding photoshoots with a horse.
Rates
$10 for pony rides
From $70 for 45-minute leisure riding lesson
From $85 for 1 hour trail ride
Opening Hours
Tue to Sun: 8am to 8pm. Closed on Mon
Contact
6463 6021, 6583 9665 | [email protected] | Website
Address
Gallop Stable @ Horse City: 100 Turf Club Road, Singapore 287992
Gallop Stable @ Pasir Ris: Carkpark C, 61 Pasir Ris Green, Singapore 518225
Singapore Turf Club Riding Centre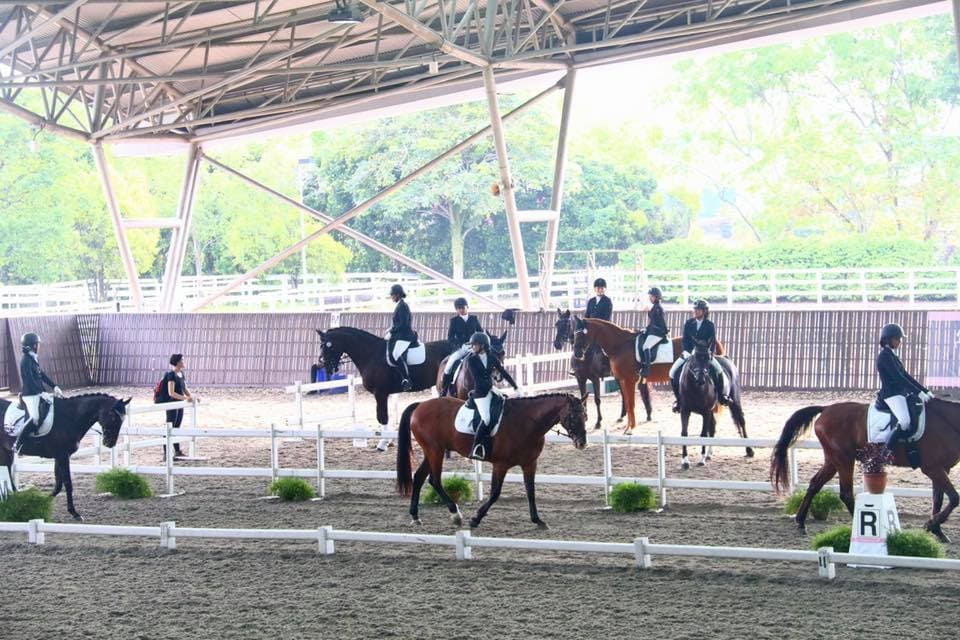 The Singapore Turf Club Riding Centre (STCRC) is a joint collaboration by the Singapore Turf Club (STC) to introduce and educate the public about horses and horse-riding.
Opened in 2009, STCRC offers an array of horse-riding activities for all ages. Individuals new to horse-riding may opt for a 20-minute trial ride or a horse-riding lesson. A 7-week riding programme is also available for those looking to master the fundamentals of riding.
Rates
$60 for a 20-minute trial ride
$110 per pax for a 45-minute group lesson
Opening Hours
Tue to Sun: 7am to 7pm. Closed on Mon
Contact
6879 3600 | [email protected] | Website
Address
1 Equestrian Walk (off Woodlands Avenue 3), Singapore 737863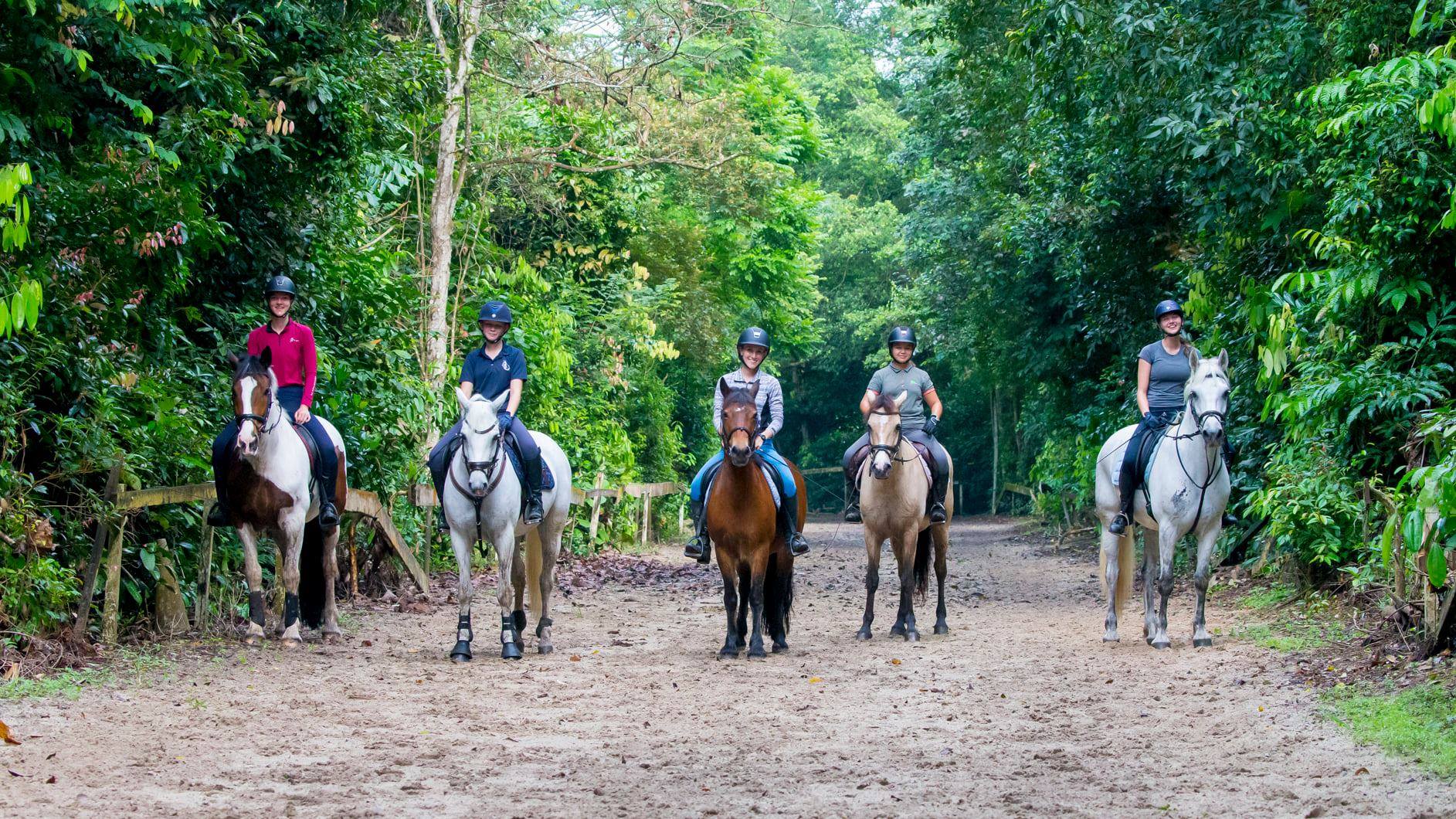 Set up by Singapore Turf Club, Bukit Timah Saddle Club (BTSC) offers retired race horses a second chance at life by re-training them for other skills such as show jumping and dressage. Today, BTSC is one of the leading saddle club offering a variety of courses and career training for horse groomers and riding instructors.
Similar to other horse-riding clubs, BTSC conducts beginner courses, trail rides and pony rides for non-members. A 1-hour photoshoot with a horse is also available for $588.
For those looking to join Bukit Timah Saddle Club as a member, the lifetime membership cost $6000 while a term (annual) membership cost $1950.
Rates
$600 for horse-riding beginner course (8 lessons, each lasting 45 minutes)
$105 for 45-minute trail ride
$12 per Pony Ride
Opening Hours
Tue to Sun, 7am to 11am & 3.30pm to 7pm. Closed on Mon and PH
Contact
6466 2264 | [email protected] | Website
Address
51 Fairways Drive, (off Eng Neo Avenue), Singapore 286965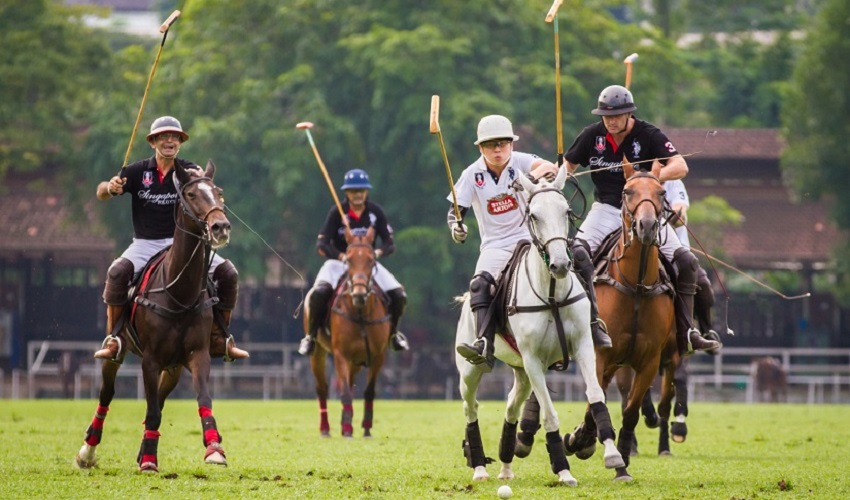 Set up in 1886, the Singapore Polo Club is one of the oldest and most prestigious horse-riding club in Singapore. 
The club offers ad-hoc lessons for beginner riders under the Riding Academy while the Pony Academy provides a structured programme for youths kickstarting their equestrian journey.
To participate in the club's horse-riding activities, non-members must pay a non-refundable riding fee of $200 per month; this fee excludes fees for the actual activity. Non-members can pay for a maximum of three months, after which they must pay for a full membership if they wish to continue.
The term membership (annual) cost $1,284 while a lifetime membership will set you back $6,000.
Rates
$70 for an ad-hoc group lesson
Opening Hours
Daily, 7:30am to 9:30pm
Contact
6854 3999 | [email protected] | Website
Address
80 Mount Pleasant Road, Singapore 298334
National Equestrian Centre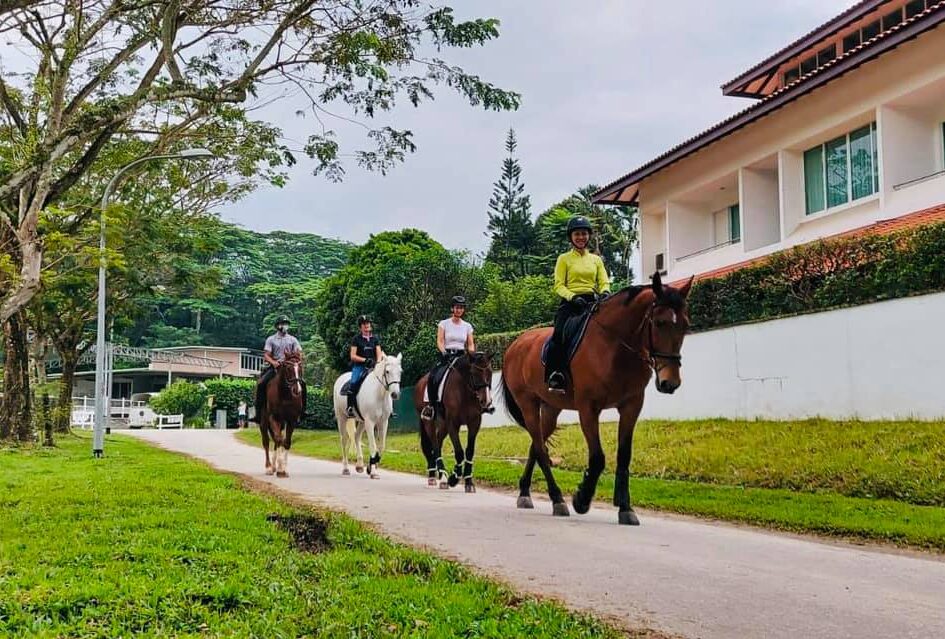 The National Equestrian Centre is a riding school set up in 2011 by the Equestrian Federation of Singapore to introduce equestrian to the local sporting community. 
Located at the 5.8 hectare National Equestrian Park, the centre offers a variety of riding courses for the public as part of its outreach programme. It also works with the national team to develop international equestrian competition in Singapore.
Rates
$640 for a horse-riding beginner course (8 lessons, each lasting 45 minutes)
Opening Hours
Tue to Sun, 7am to 11am, 3pm to 7pm. Closed on Monday
Contact
9753 8739 | [email protected] | Facebook
Address
100 Jalan Mashhor, Singapore 299177
Riding For The Disabled Association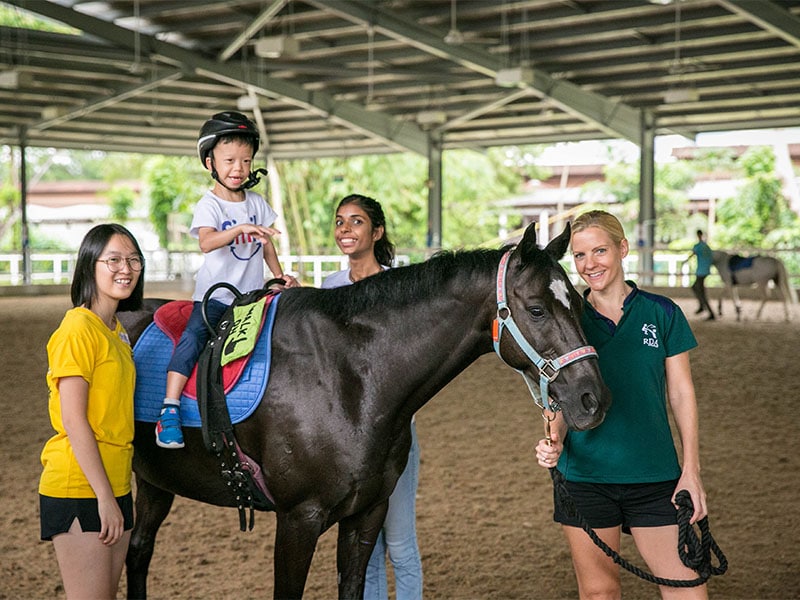 Riding For The Disabled Association (RDA)  is a charity that offers free equine-assisted therapy to individuals with physical and mental disabilities.
With the help of therapy horses and ponies, the structured programme work to improve the cognitive, physical and emotional well-being of individuals with special needs, thus improving the quality of life of the beneficiaries and their families.
Many of the riders at the organization have advanced to compete in the international stage, including Gemma Foo and Maximillian Tan who represented Singapore in the 2012 London and 2016 Rio Paralympic Games respectively.
RDA is not fully funded by the government and relies on the generosity of the public to fund the FREE horse-riding therapy programme. Support RDA by donating here.
Rates
FREE. To qualify for the programme (6-9 months waiting list), the applicant must be aged 5 or older, weigh below 60kg, and has a Developmental Disability, Sensory Disability, and/or Physical Disability.
Opening Hours
Mon to Sat, 9am to 5:30pm (12.30pm on Sat). Closed on Sun
Contact
6250 0176 | [email protected] | Website
Address
5 Jalan Mashhor, Singapore 299174
Q: Is it hard to ride a horse?
The answer is yes and no. It is a relatively easy sport to pick up as most beginners will be able to master the basics of horse-riding within the first few lessons. However, to achieve more complicated moves such as trotting and show-jumping will require skill and practice.
Q: Can horses sense my uneasiness?
Horses are smart animals and can easily sense one's uneasiness or fear. Show confidence when mounting the horse and always stay in sync with the horse's rhythm.
Q: Is there such a thing as horse language?
Yes! Similar to a human's body language, a horse can communicate with you through its behavior. This include the movement of its ears, the swishing of its tail and its reaction to your presence.
Q: What should I wear for horse-riding?
Wear form-fitting pants to ensure that you do not snag onto any of the equipment during your lesson. Sandals and flip-flops are not allowed while a sturdy pair of boots is highly recommended to protect your feet. Helmets are compulsory during all horse-riding lessons and will be provided by the horse-riding club.
Q: Can I go for just one horse-riding lesson?
Absolutely! Many horse-riding clubs in Singapore offer a one-time trial lesson, be it a basic course on horse-riding or a trail ride around the compound. However, take note that horse-riding can be addictive!
Q: Any general tips when doing horse-riding?
Always communicate with the instructor to find out more about the behavior of the horse you will be riding on. Be confident mounting the horse and sit up straight when on the saddle. Be gentle with the horse and learn to 'listen' to it. You will get better over time!
Want to know the latest outdoor, sports and fitness events and promotions in Singapore?