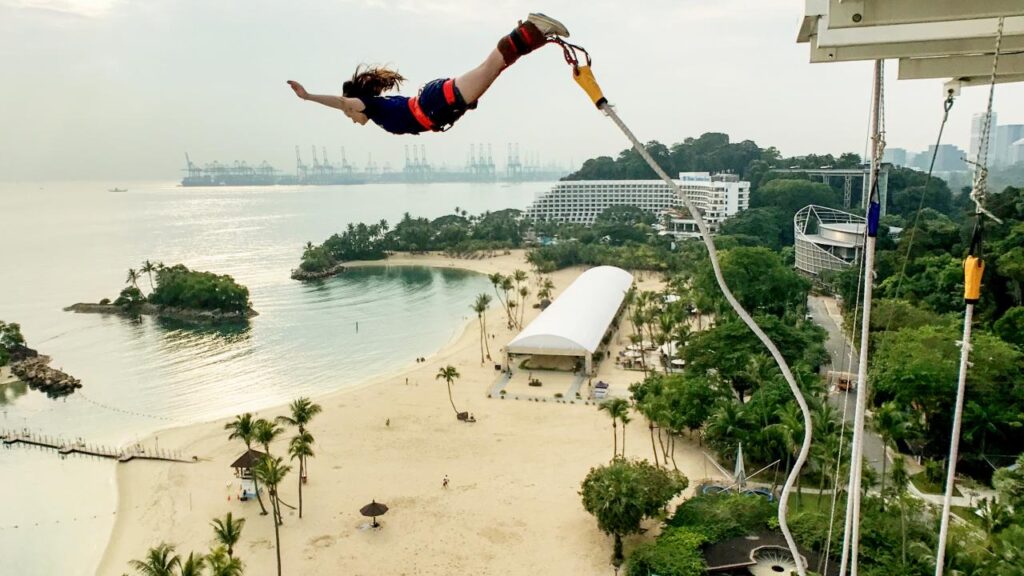 For those looking for the ultimate rush look no further than our world-famous Bungy Jump. Standing 50 metres above the beautiful Siloso beach you can enjoy the freedom and adrenaline of safely flying through the air, with the option of a warm water touch in the bungy pool below.
A must for families and friends is to bond in the shared excitement of flying through the air on the Giant Swing.
If you're looking for something a little less adventurous you're in luck. Take the lift up 50 metres and you find yourself at the Skywalk, a 40 metre walkway with uninterrupted views of Sentosa and see through glass floor sections.
AJ Hackett Bungy Jumping
Standing on the edge, 47m above ground, you look out towards the horizon. At that moment, everything stops. Nothing else matters. It's just you, the cool breeze blowing from the sea, and the bungy cord hanging between your feet.
You close your eyes, take a deep breath, exhale, and open your eyes again. A thousand questions run through your head, but only one matters: Would you take that leap towards an exhilarating, life-changing experience?
"Two… One… BUNGY!"
Bungy Jump includes:
1 Bungy Jump
E-certificate
AJ Hackett International Membership – 20% off worldwide