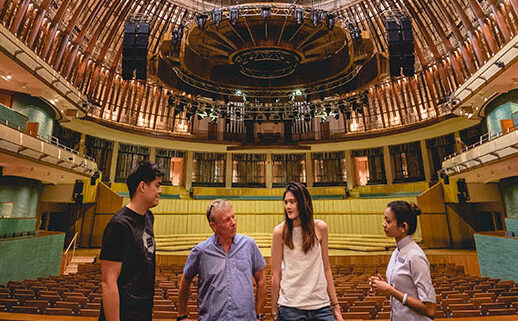 Opened in 2002, Esplanade is a non-profit art center and venue that host a diverse range of dance, music and theatre performances, in addition to captivating visual arts exhibitions and more. As Singapore's national performing arts centre, Esplanade aim to continue inspiring audiences and cultivating the arts scene.
Esplanade Tour
Experience the sublime acoustics of the Esplanade Concert Hall and take a seat in the majestic Esplanade Theatre.
This tour gives you a peek under Esplanade's famous domes, taking you into the auditoriums of our Concert Hall, Theatre and other front-of-house spaces.
Along the way, find out about Esplanade's architecture and history and pick up other interesting nuggets of information such as how the Esplanade Concert Hall can be tuned to sound like a small room or a huge cathedral, and how external noise and vibration is prevented from travelling into the performance venues.