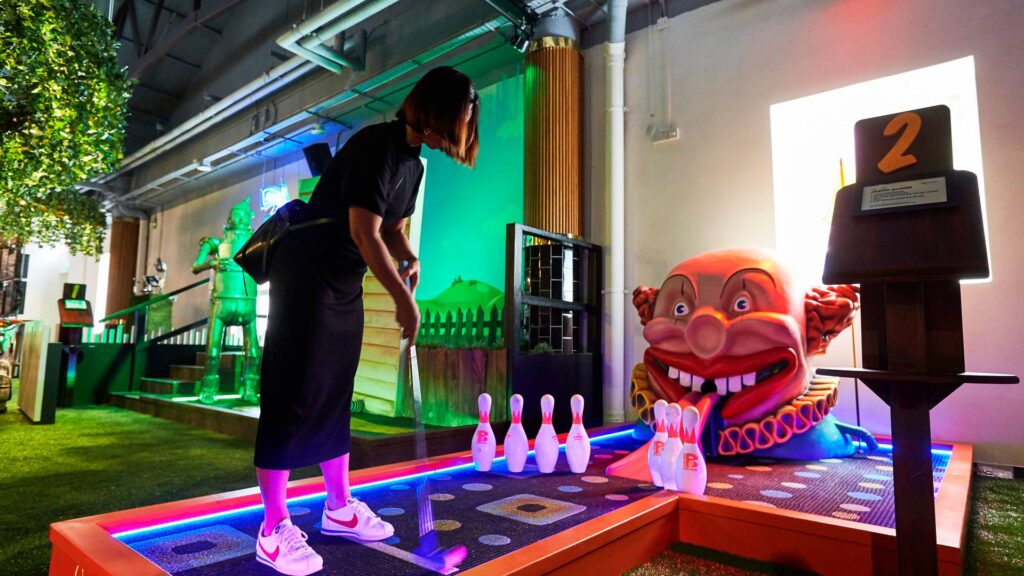 Holey Moley Golf Club is a mini golf course and bar that turns traditional putt putt into a multi-sensory labyrinth of unique holes that'll keep you on your toes across the craziest round of golf you've ever played.
And with drinks, cocktails and tunes on offer at Holey Moley's full service bar, The Caddyshack bar will take care of all your off-the-green needs.
It's Singapore's best mini golf course. Par none.
18 Holes Mini Golf Course
Forget the usual windmills and castles, putt your stuff through shark-infested waters and pop culture references like America's favourite cartoon family's couch and into the Nine Iron Throne itself. Each hole will keep you wanting more.
Holey Moley mini golf is a putt above the rest.
Popular holes include:
Yellow Brick Green: Click your heels together three times and say, "There's no place like Holey Moley"
Children of the Pawn: Putt your way around royalty on this tricky course. Check mate.
9 Iron Throne: When you play the Games of Thrones, you win or you get laughed at by your mates.
Teevel Knievel: Ready for a wild one? Put your inner daredevil to the test as you take on the ring of fire
Crappy Gilmore: Just tap it in. Just taaap it in. Give it a little tappy tap tap taparoo.