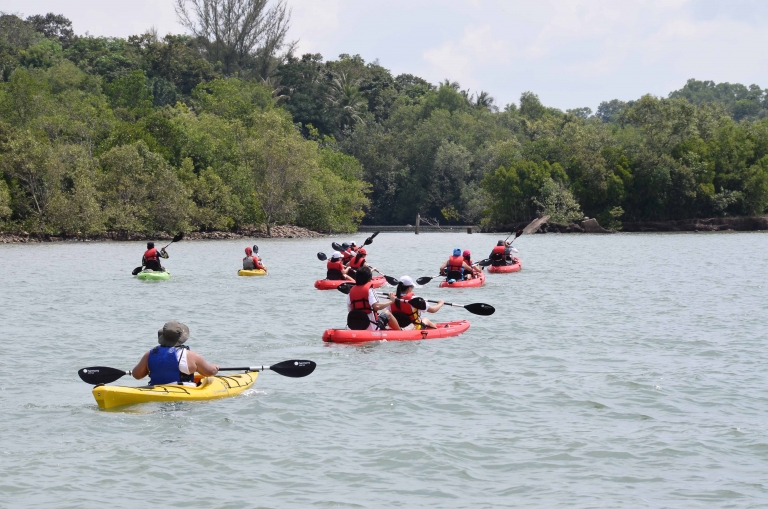 Driven by a team of professionals who are fuelled with Passion and Big Ideas, Asian Detours believes strongly in creating shared experiences through out-of-the-norm adventures. An adventure is simply an exciting or unusual experience that no one would normally have and go for. This is what we know as our DETOUR – a departure from the norm, an adventure waiting to be experienced.
Kayak Kelong Kampong Experience
Experience the outdoors with great zest and be invigorated once more as you catch a glimpse of living in an authentic village kampung home located in Pulau Ubin. The K3 offers a full spectrum of experiences for those willing to leave the trappings of a concrete jungle to sneak a peek at the lives of the generations past.
The K3 journey begins with a hearty kayaking session to Ubin's fish farm kelongs (fish farms on stilts located on water) to experience the hidden fishing livelihood of the fishermen before heading back to shore for a meal, cooked up from the fishes caught earlier. Our K3 adds a cultural dimension and concerted meaning to an otherwise plainly adventurous activity, with the yesteryear discourse dutifully synching with the experience. The affair is perfect for big groups looking for new things to do in Singapore.
Kayak Kelong Kampong tour includes:
Adventure guides
All necessary equipments
Floatation safety test
Adventure guaranteed
Note:
Advance booking of 14 days required before program date
Minimum booking of 10 person apply
Program operates in both dry and wet weather
Children must be 7 years old to participate