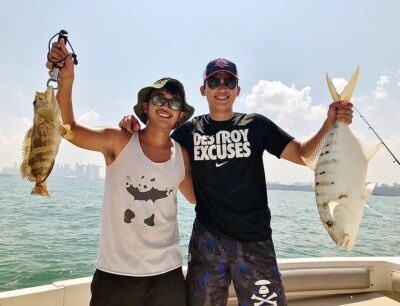 Wanderlust Adventures is made up of a group of experienced anglers and boaters who are passionate about sharing their love of the sea with people like you.
With a intimate knowledge of these waters, Wanderlust Adventures create and deliver customized packages that will allow you to cast your cares ashore and live in the moment for an unforgettable day of exploration and wonder – your nautical specialist.
PARTY FISHING AT SOUTHERN ISLANDS
Get on board yacht Artemis and go on a day of fishing at one of Singapore most popular offshore fishing spot. Whether you are an individual or a party of two or more people, there's always a spot for you. Sign up now and prepare to make new fishing buddies!
Fishing package includes:
Rental of fishing equipment
Usage of fishing accessories
Guidance from fishing instructors
Bait: live and dead prawns
Mineral waters on board
Note:
Trip last six hours from 9am to 3pm
Fishing dates for party fishing are fixed.
Minimum of six anglers required for Party Fishing trip to be confirmed.