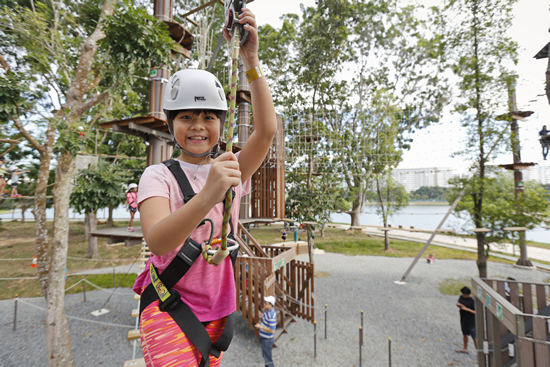 Come and experience 2.5hours of exhilarating fun on top of the forest canopy at Singapore's only tree top adventure course. From the Grand Course (44 obstacles) to the Kids Course (16 obstacles), you are guaranteed to have an unforgettable outdoor adventure packed with laughter, adrenaline pumping action and personal achievements.
Grand Course
Get ready for 44 wobbly crossings and 3 breath-taking zip lines over the water.
Before you go, you'll be equipped with a harness and go through 20 minutes safety briefing where you will learn to use your equipment and how to move on the course.
While on the course, you are free to swing as you like as you will no longer be directly supervised by an instructors. This is not a guided tour! Instructors are on the ground (not on the course), in case you need a little bit of help and support.
Note:
Particiapnts below 18 must have the Forest Adventure Risk Acknowledgement and Disclaimer form signed by a parent or guardian.