Home to over 100,000 tombs, Bukit Brown Cemetery is the largest Chinese graveyard outside of China.
For almost a hundred years and counting, it is the burial grounds of countless Chinese pioneers and immigrants who have toiled to build a better Singapore. However, this precious site may soon be cleared to make way for new developments.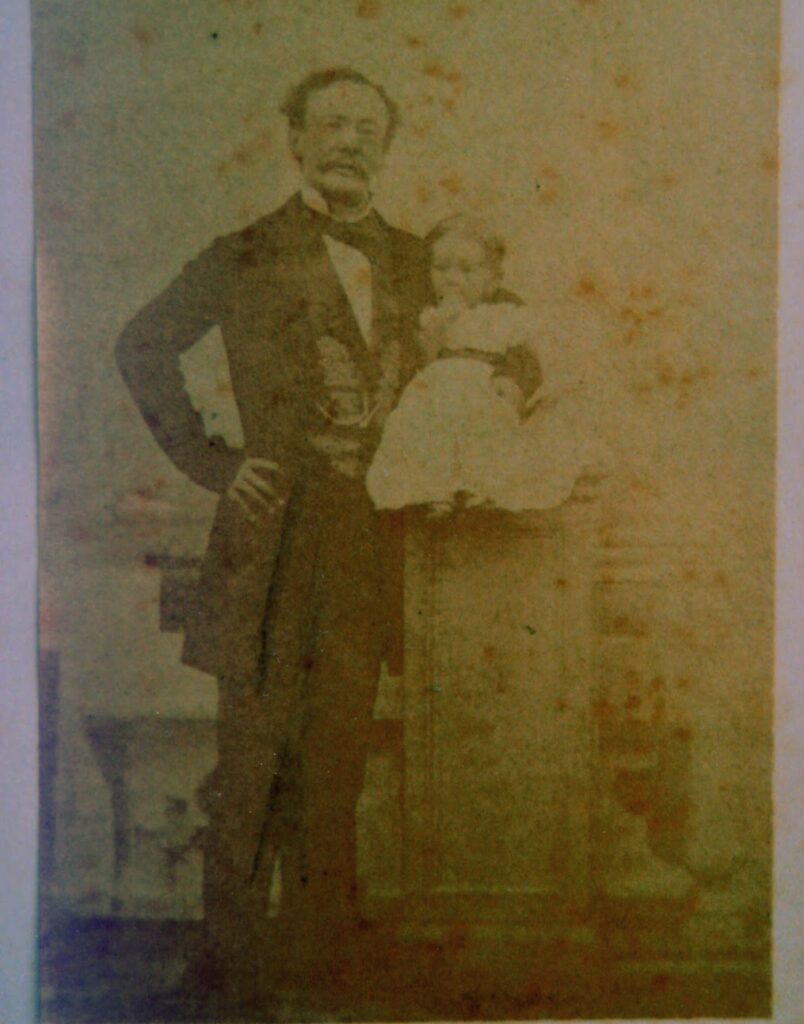 A trader and shipowner, George Henry Brown arrived in Singapore in the 1840s and started G H Brown & Co, a brokerage company. With the growth of his business, Henry bought pieces of land in Singapore, including a large plot off Thomson Road where Mount Pleasant and Bukit Brown Cemetery currently is.
Brown cleared the land and built several cottages for his families and staffs. He also cultivated several crops including nutmeg and coffee.
Brown died in 1882 in Penang after moving to the town to recuperate from an injury he suffered while operating a tapioca cutting machine.
With his death, the entire estate along Upper Thomson Road was sold to Mootapa Chitty (a Chettiar, a title given to India merchants that deals with trading and financing) and later Lim Chu Yi, a Chinese businessman.
Bukit Brown Municipal Cemetery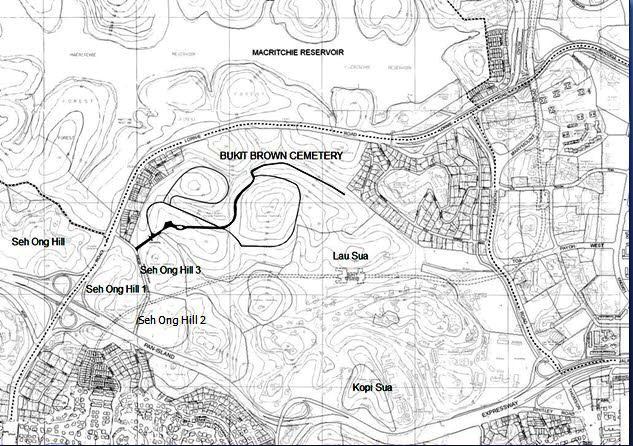 The land was eventually bought over by Ong Ewe Hai, Ong Kew Ho and Ong Chong Chew from the Hokkien Ong Clan. The 221-acre land was initially set up as a village for poorer members of the Ong Clan to settle. However, for unknown reasons, the site was used solely as a burial ground.
You may be interested in: The History Behind Istana Woodneuk

In 1918, after pressures by the public to set up public burial grounds for the Chinese community, the government acquired 98 acres of the land from the Ong trio to establish Bukit Brown Municipal Cemetery.
Opened in 1 January 1922, Bukit Brown Cemetery became the default burial ground for the local Chinese community. By 1929, the cemetery accounted for over 40 per cent of all officially registered Chinese burials in the municipality.
The entire Bukit Brown Cemetery complex is made up of four cemetery: Bukit Brown Cemetery, Lau Sua (Old Hill) Cemetery, Kopi Sua (Coffee Hill) Cemetery (also known as Mount Pleasant Cemetery) and Seh Ong Sua (Ong Clan Hill) Cemetery. However, the entire area is commonly referred to as Bukit Brown Cemetery. Click here for a map of the cemeteries, created by Mok Ly Yng.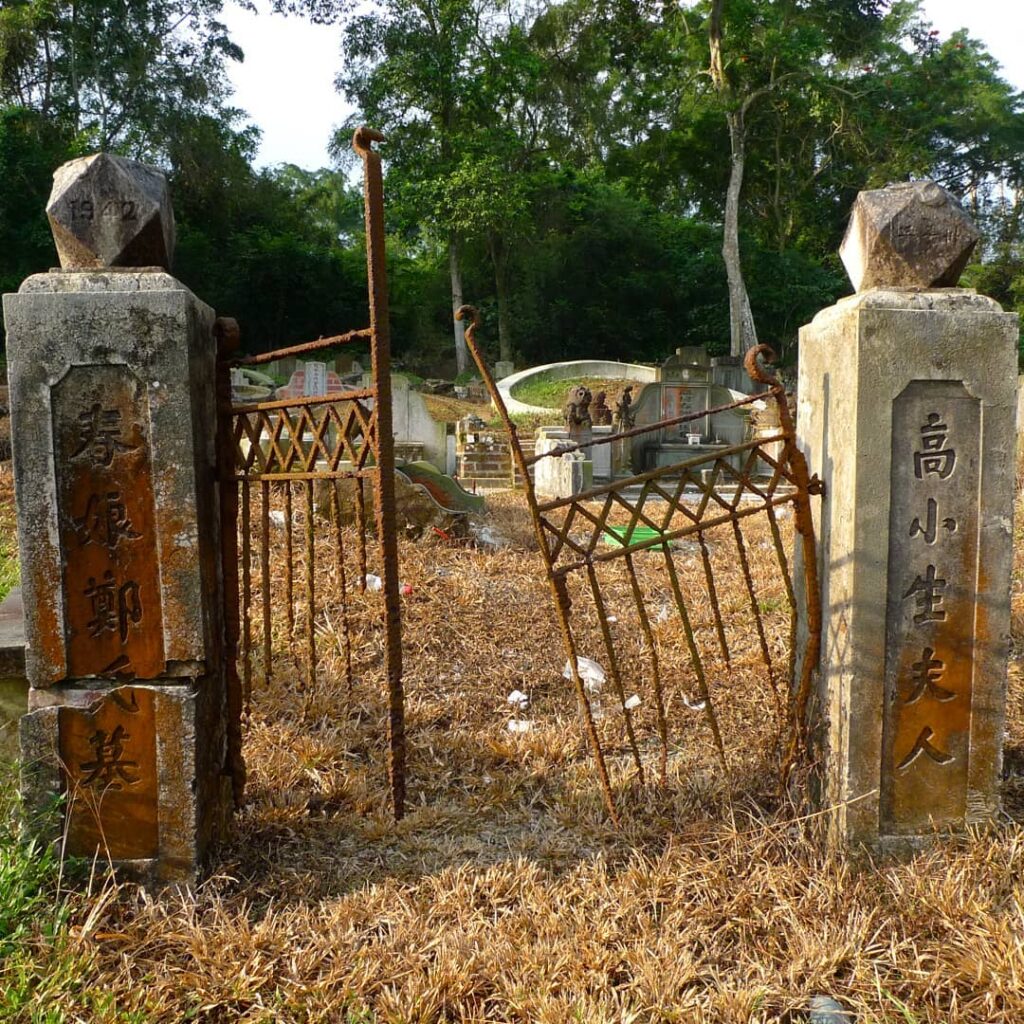 Today, an estimated 100,000 graves is housed within Bukit Brown Cemetery. This includes many notable Chinese pioneers including:
Oh Sian Guan, founding director of Overseas-Chinese Banking Corporation (OCBC) bank

Tan Boo Liat, philanthropist and great-grandson of Tan Tock Seng

Ong Boon Ta, founder of New World Amusement Park

Lee Hoon Leong, grandfather of Minister Mentor Lee Kuan Yew
In 1973, the cemetery was closed for burials. However, the site remains open to the public and are maintained by a group of by caretakers and volunteers.
Most are familiar with the cemetery's more popular moniker Kopi Sua, or Coffee Hill. It is widely assumed that Coffee Hill was named after Brown's failed attempt to grow coffee on the land. Others however, have suggested that the hill was named 'Kopi' for its 'brown-ish' soil color as there was no translation of 'Brown' in the Hokkien dialect.
A round of exhumation was done in the 1970s to make way for the construction of the Pan Island Expressway (PIE). This led to the splitting of Bukit Brown Cemetery with the smaller section (bounded by Onraet Road, Mount Pleasant Road and PIE) being renamed as Mount Pleasant Cemetery.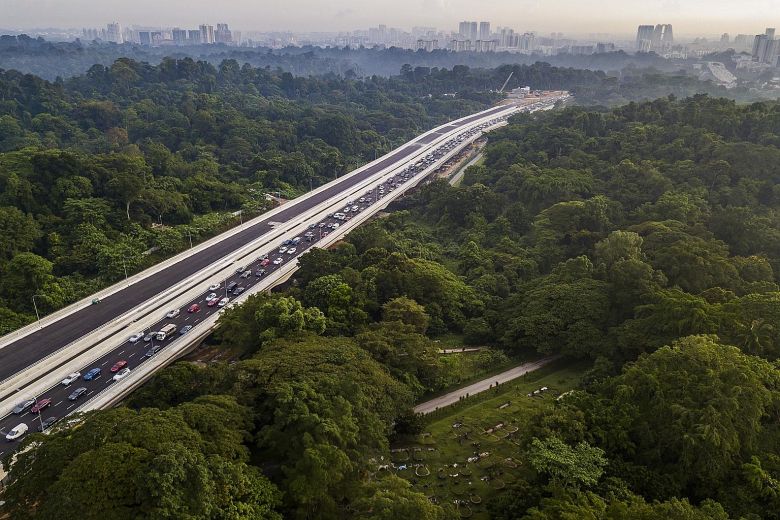 In 2011, it is announced that the eight-lane Lornie Highway will be built to link MacRitchie Viaduct and Adam Road to ease congestion along Lornie Road.
The road project triggered huge dissent from heritage and nature conservation groups as it runs straight across Bukit Brown Cemetery.
In spite of the public outcry, the road project continued and was completed in early 2019. An estimated 3,700 graves were exhumed to make way for the roads, down from the original 5,000 initially announced.
The Singapore Heritage Society created the
B
ukit
Brown
Wayfinder
trail to encourage Singaporeans to go on a heritage journey and visit one of the country's largest and last-remaining burial grounds. The trail brings one along 25 iconic tombs and provides a detailed write-up of the story of these individuals who have laid rest in Bukit Brown Cemetery.
Two MRT stations — Bukit Brown MRT station and Mount Pleasant MRT station — are slated to operate within the grounds of Bukit Brown Cemetery and Mount Pleasant Cemetery.
The construction of Bukit Brown station have been completed though it remains non-operational til future residential development renders the operation of it. On the other hand, Mount Pleasant MRT will be built within the grounds of the Old Police Academy and is scheduled to be completed by 2022.
Want to know the latest outdoor, sports and fitness events and promotions in Singapore?