Lace up and explore Singapore with these five long-distance trails that takes you around some of Singapore's best nature parks and attractions!
As Asia's Greenest City, Singapore has over over 350 parks and 4 nature reserves to complement our city landscape. Several walking trails have also been established around Singapore to enable Singaporeans to get up close and personal with nature. While the country may be a little red dot, there are several long distance trails that may prove too hard to take on even for the experienced.
1. Coast to Coast Trail (36km)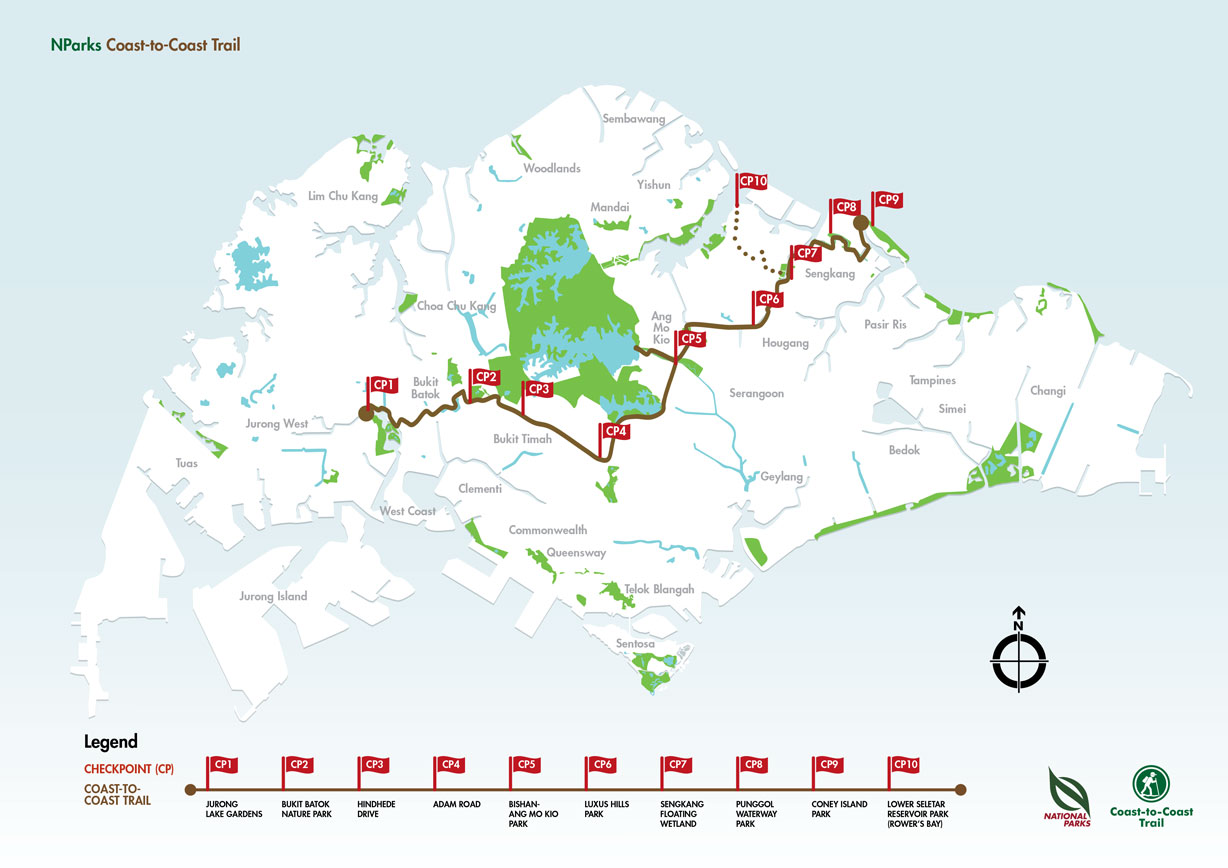 Highlights:
Jurong Lake Garden
Macritchie Reservoir Park
Sengkang Floating Wetland
Punggol Waterway Park
Coney Island Park
Lower Seletar Reservoir Park
Established in April 2019, the Coast-to-Coast (C2C) trail is a 36km long trail that spans diagonally across Singapore. A total of 10 checkpoints have been established along the trail. Starting from Jurong Lake Garden, hikers navigate through 18 parks and 11 park connectors before reaching Coney Island Park and the end point at Lower Seletar Reservoir Park (Rower's Bay).
A mobile app was developed to provide an interactive walking experience with the use of augmented reality (AR). The mobile app offers real-time navigation and check-ins where points can be earned and redeemed. Hikers can also upload photos of their hike and share with the local community.
Resources:
C2C PDF Trail Guide
C2C Mobile App
2. Central Urban Loop (36km)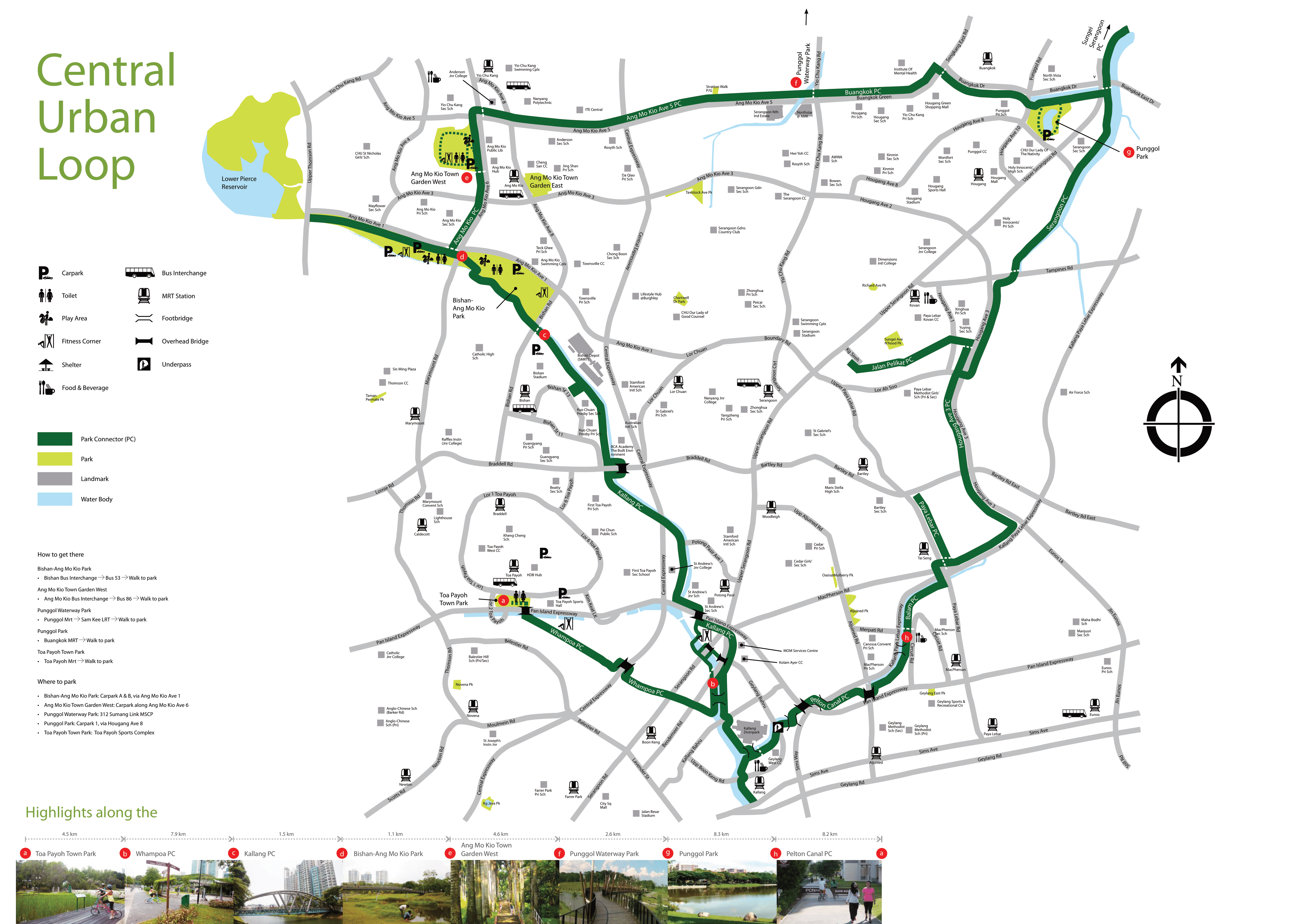 Highlights:
Bishan's iconic HDB architecture
120 Steps staircase @ Ang Mo Kio Town Garden
Punggol Waterway Park (aka Venice of Punggol)
Kallang Park Connector
Similar to the Coast-to-Coast trail in distance, the Central Urban Loop (CUL) stretches 36km in a circular loop, connecting the North Eastern Riverine and Eastern Coastal loops. With the CUL, residents from Ang Mo Kio, Hougang and Serangon have easier access to parks in the East such as the East Coast Park and Pungol Waterway.
The completion of the CUL loop in 2015 also marked the 300km milestone of Singapore's Park Connector Network.
Resources:
CUL Loop PDF Trail Guide
3. Eastern Coastal Loop (42km)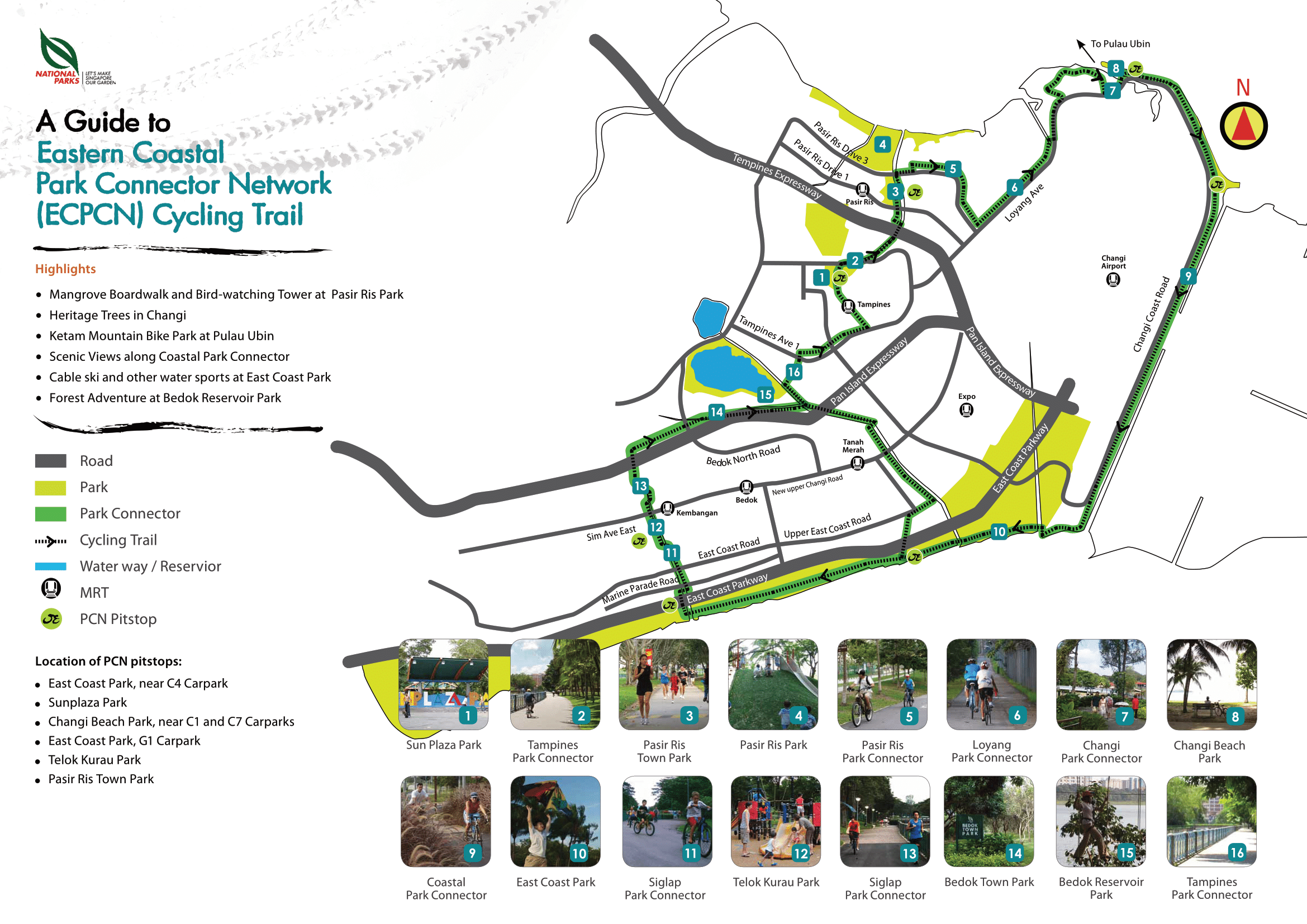 Highlights:
Pasir Ris Park
East Coast Park
Changi Beach Park
Mangrove Boardwalk & Bird-Watching Tower
Changi Point Ferry Terminal
Bedok Reservoir Park
The Eastern Coastal Loop (ECL) (also known as the Eastern Coastal Park Connector Network) spans 42km across seven park connectors in the East. With ECL, cyclists and hikers can now visit popular beach parks such as East Coast Park, Changi Beach Park and Pasir Ris Park.
Various amenities and facilities such as car parks, toilets and eateries are scattered along the coastal trail, making it one of the most convenient trails in Singapore. If you are up for the challenge, participate in one of the water sports found along the trail, or even take a bumboat from the Changi Jetty for a quick visit to Pulua Ubin!
Resources:
ECL Loop PDF Trail Guide
4. North Eastern Riverine Loop (26km)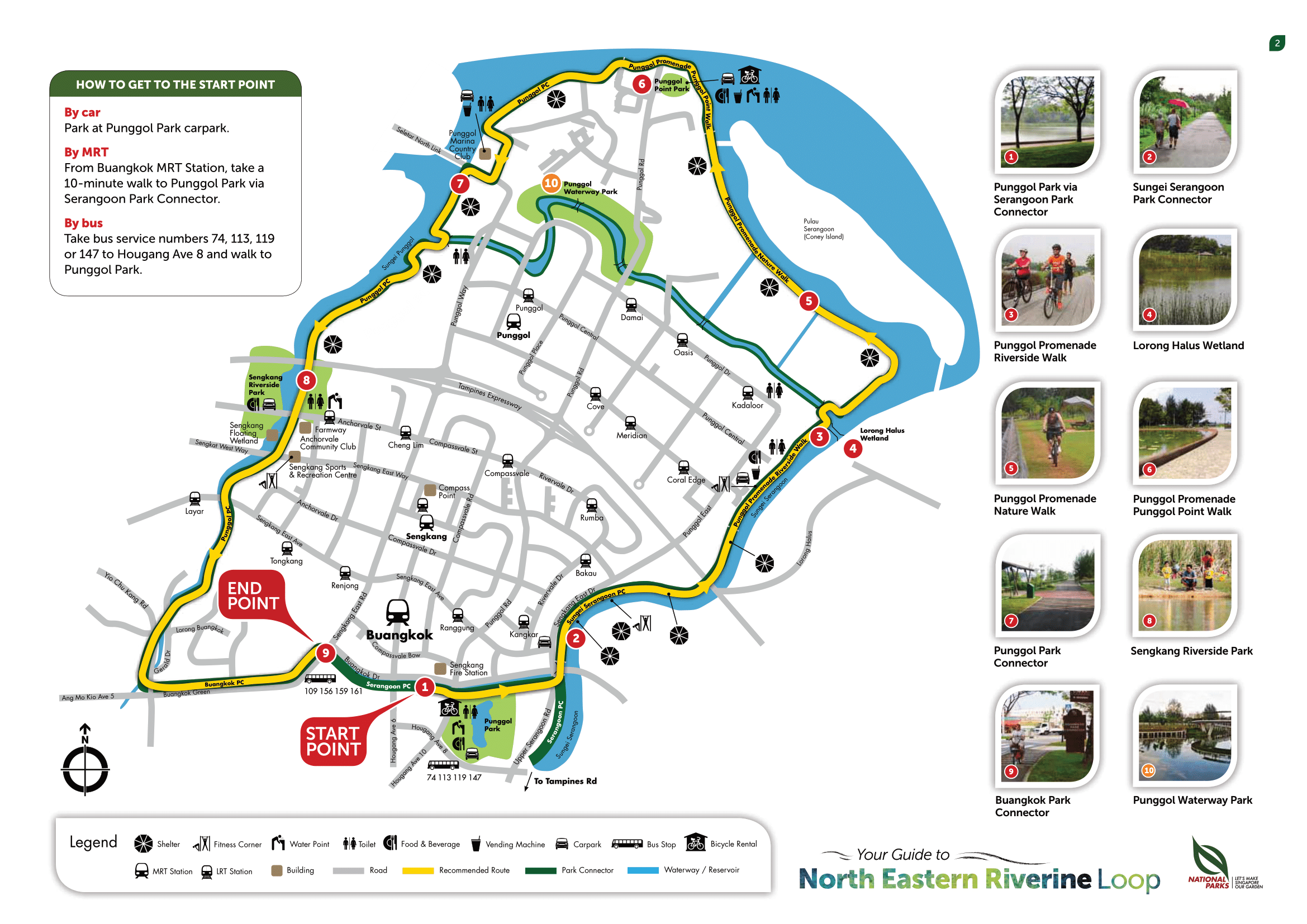 Highlights:
Kampung Lorong Buangkok (The last kampung in Singapore!)
Lorong Halus Wetland
Coney Island
Punggol Point Park
Sengkang Riverside Park
Stretching across Buangkok, Senkang, Pungol and Hougang, the 26km long North Eastern Riverine Loop (NERL) features the coastlines and waterways of the North East district.
In particular, the loop bypasses the Punggol Jetty, Pungol Promenade and Lorong Halus Wetland, allowing hikers to have a glimpse at the Singapore's natural biodiversity and take in the panoramic view of the Northeast coastline.
Resources:
NERL Loop PDF Trail Guide
5. Northern Explorer Loop (25km)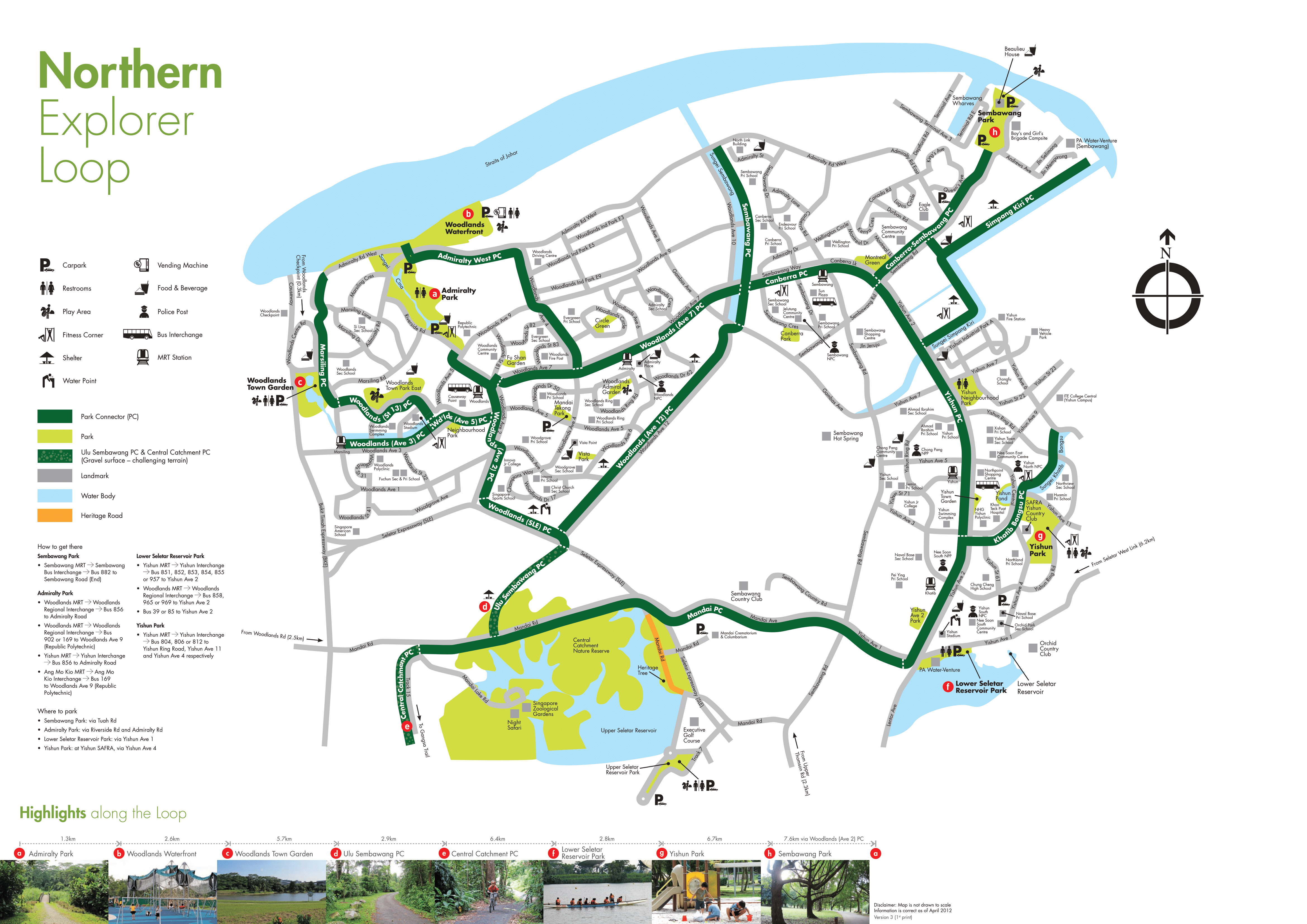 Highlights:
26 slides @ Admiralty Park
Paranomic views of Johor @ Waterfront Park
Ulu Sembawang Park Connector
Sembawang Park
Lower Seletar Reservoir Park
Connecting residents in Woodlands, Sembawang and Yishun, the Northern Explorer Loop (NEL) features 11 parks located in the north, including Woodlands Town Garden, Admiralty Park and Woodlands Waterfront.
At the Woodlands Waterfront Park, hikers can get a paranomic view of the Causeway and the Straits of Johor. For those looking for a quick bite, Rasa Istimewa Waterfront Restaurant, located at the edge of the jetty, offers a variety of meals and deserts for hungry-goers.
Also, be sure to check out the iconic "Rocket Tower" at Seletar Reservoir! Built in 1969, the same year that Apollo 11 landed on moon, the six-storey high tower offers a  breathtaking paranormic view of the surrounding waters and greenery.
Resources:
NEL Loop PDF Trail Guide
6. Western Adventure Loop (20km)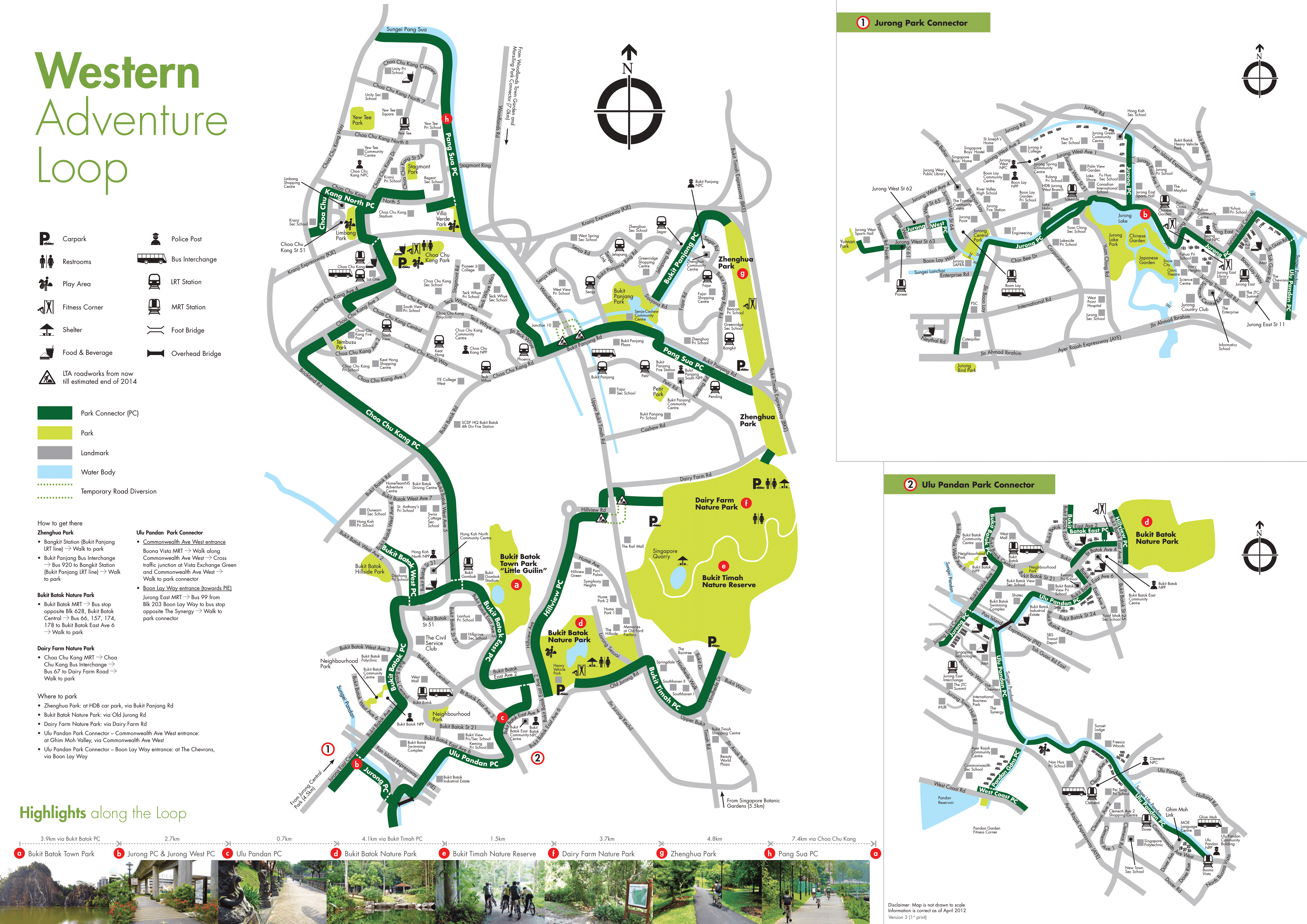 Highlights:
Xiao Guilin @ Bukit Batok Town Park
Poh Kim Quarry @ Bukit Batok Nature Park
Bukit Timah Hill @ Bukit Timah Nature Reserve
Zhenghua Park
The shortest of the 6 featured trails, the 20km long Western Adventure Loop (WEL) covers 8 parks located in the West, including Bukit Batok Town Park (where Xiao Guilin is located), Dairy Farm Nature Park and Bukit Timah Nature Reserve.
For the less experienced, hike along Hillview Park Connector and walk along Dairy Farm Road to Zhenghua Park. Otherwise, hike along Bukit Timah Park Connector and summit the 164m tall Bukit Timah Hill before exiting to Zhenghua Park.
Be sure to check out the Rail Corridor which runs parallel to Pang Sua PC from Junction 10 to Yew Tee (end of park connect0r).
Resources:
WAL Loop PDF Trail Guide
BONUS: 150 km Round Island Route (by 2035)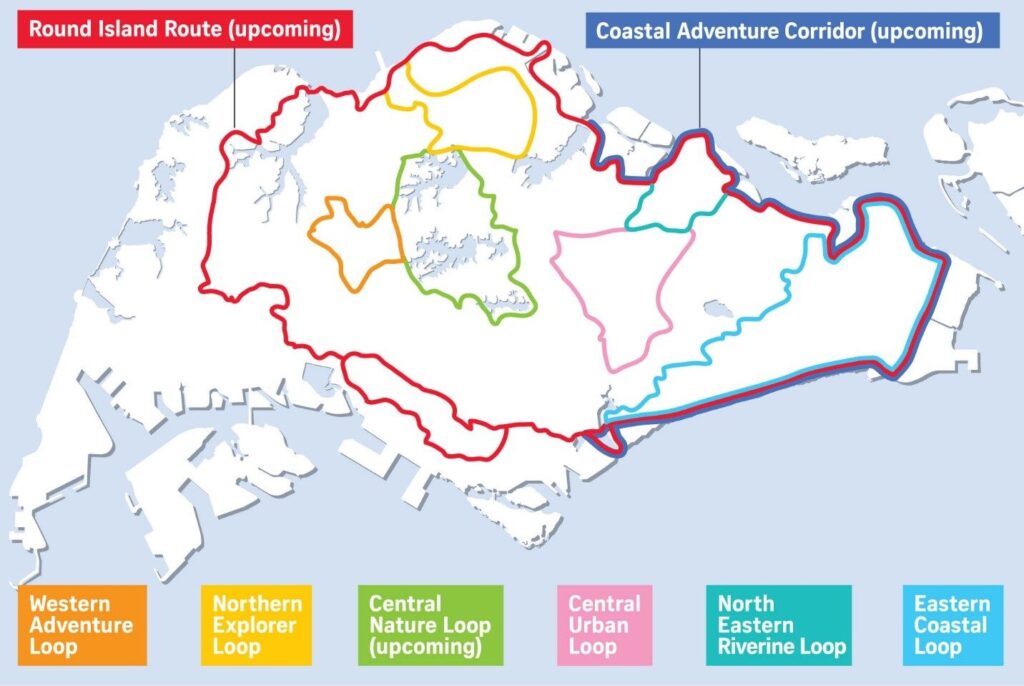 The Round Island Route (RIR) is a 150km long park connector that loops around Singapore (literally!) The route complements existing Park Connector Network and will connect several natural, cultural and historical sites to create an integrated and well-rounded hiking experience.
The first 60km of the RIR has been connected between Rower's Bay and Gardens by the Bay via Sengkang Riverside Park. The route will be extended to 120km by 2021 with the completion of another 60km of path between Gardens by the Bay and Rower's Bay via the Singapore River and Rail Corridor.
The full, 150km route will extend the western section of the RIR, connecting Gardens by the Bay to Jurong Lake Gardens (via the Rail Corridor) before heading up north to Kranji and Admiralty, and ending at Rower's Bay. With that said, the full RIR is slated to complete only in 2035. Sorry to disappoint ultra marathon runners out here!
Want to know the latest outdoor, sports and fitness events and promotions in Singapore?
It seems we can't find what you're looking for.