The savage murder of three women in Yishun dominated Singapore headlines for weeks in 2008. Unravel the story that turned a lover into a vicious murderer. 
The history between Chinese national Wang Zhijian (Wang) and Zhang Meng (Zhang) can be traced back to 1996 when the pair first met via a mutual friend in a gathering. Back then, both were already married to their significant others and Zhang had a 5-year-old daughter Feng Jianyu (Feng)
It wasn't until a decade later when the pair met again in 2005. Out of nowhere, Zhang contacted Wang, who was then divorced for a year, for a meetup. 
The dates that followed soon turned into an illicit love affair as both fell deeply in love with each other. Wang even had a tattoo of Zhang's face and half her body on his back to express his 'sincere love' for her.
Their relationship was exposed by Zhang's husband Feng Jinqiang in November 2006, leading to a divorce in 2007. In the same year, Zhang and her daughter Feng moved to Singapore to sought for a better education. The pair moved into a rental flat near Northview Secondary School where Feng was enrolled in.
Also living in the rental flat was Yang Jie (Yang) and her daughter Li Meilin (Li), another mother and daughter pair who also moved from China to Singapore for a better education.
On July 2008, Wang acceded to Zhang's request and moved to Singapore to live with her and her daughter.
In January 2008, Wang tattooed a snake and a grim reaper devouring a heart on his right and left shoulder respectively. It was said to have symbolised Zhang's vicious and manipulative nature, and to signify a change in his feelings for her.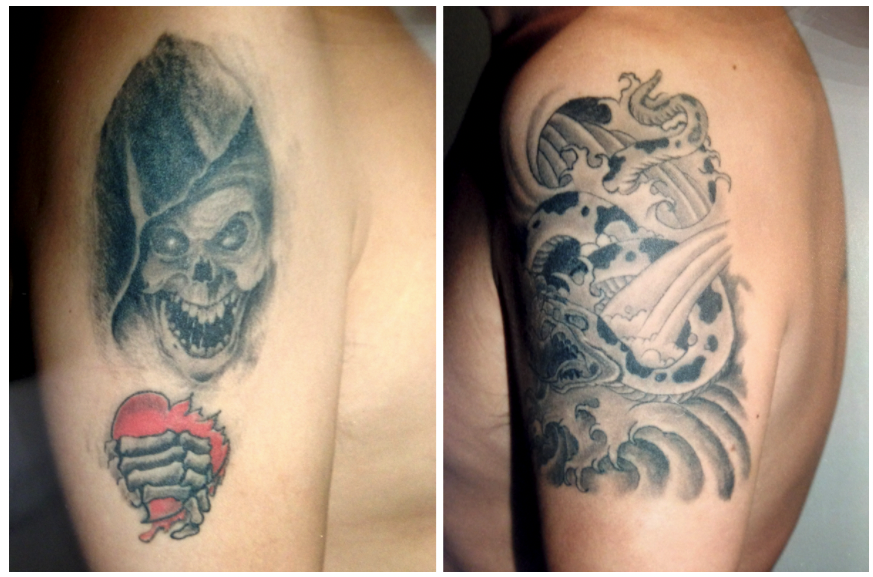 As Wang could not obtain a permanent visa, he visited Zhang several times in 2008 on social visit passes.
On each occasion, Wang alleged that he was poorly treated by Zhang. Wang claimed that he had to cook for them, eat their leftovers, and even hand-wash their clothes during his time there.
He was also forced to stay in the bedroom (naked) whenever anyone else is in the flat. As a result, he urinated and defecated into plastic bags whenever he was in the bedroom.
In spite of the abusive relationship, Wang continued to visit the Zhang and Feng whenever possible and splurge on them with food.
On the evening of 18 September 2008, Wang got into a quarrel. By then Wang had already spent most of his life's saving on the mother and daughter pair but they insisted on having crabs for dinner. 
A quarrel soon followed with Zhang humiliating Wang in front of everyone, calling him 'an animal produced by dogs and donkeys'.
Enraged and dazed by the quarrel in the evening, Wang got up in the middle of the night and went to the kitchen. It wasn't long before he decided to end the relationship with vengeance.
With a knife, Wang stormed back into the room and stabbed Zhang repeatedly as she screamed. 
Wang then turned to Zhang's daughter who opened the door after hearing her mother's screams; the pair suffered a total of 98 stabs and slashes.
Deranged and aggravated, Wang turned to the mother and daughter pair Yang and Li who were in the another bedroom. He returned to the kitchen and grabbed a chopper before entering their bedroom.
Yang and Li, already awake by the screams, managed to fend off the initial attacks by Wang. Yang escaped to the narrow ledge outside of the kitchen but fell six stories to her death after Wang had slit her fingers with the chopper.
Li hid at the kitchen toilet but was found by Wang. Wang took another knife and hacked the plastic door till it collapsed before slashing Li multiple times in the head, face and neck. Wang stopped the attacks and was about to leave when he heard Li murmured "God, let me die". Wang returned and continue stabbing her. Li lost consciousness during the attacks but woke up to see police on the scene and Wang arrested. 
Miraculously, Li survived in spite of receiving 41 stabs and slashes from Wang. She was the only survivor.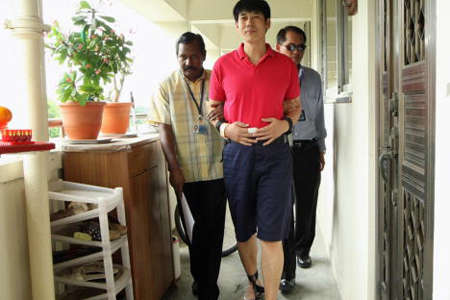 In the interrogations, Wang claimed he was under mental distress under the abusive relationship and had could not remember how he carried out the savage attacks on the four victims.
Yet, while psychiatric experts agreed that Wang was suffering from an "adjustment disorder", it was unlikely to have impaired his state of mental soundness significantly to absolve him any responsibility.
Wang was notorious for his smile during his public appearance, drawing widespread criticism from the public.
Furthermore, it was pointed out that he had showered, wore his clothes, packed his bags and his travel documents, and wore his socks and socks after the murder.  This signified that he was in a clear state of mind at the time of the attack and wanted to flee from the scene.
In a statement by Justice Chan Seng Onn who oversaw the case, "He was able to exercise his rational judgment and his intention to have (Madam) Yang killed to silence her as a potential informant and witness was clear."
In November 2014, Wang lost his appeal against his crimes and found him guilty of murder for all Zhang, Yang and Feng.
In 2015, Yishun Triple Murder was re-enacted in the fourth episode of Crimewatch season 5. Viewer discretion is advised.
The case was also included as one of 12 murder crimes in the book Murder Most Foul: Strangled, Poisoned and Dismembered in Singapore written by local author Yeo Suan Futt.
Want to know the latest outdoor, sports and fitness events and promotions in Singapore?