Despite being rated as one of the safest country to live in, Singapore is home to some of the most bone-chilling murders that will ever imagine.
It is well reputed that Singapore has one of the lowest crime rates in the world. In fact, the Economist Intelligence Unit's (EIU) 2019 Safe Cities Index (SCI) ranks Singapore as the second safest city to live in, just behind Tokyo.
Still, Singapore has its fair share of bone-chilling murders that once stunned the nation. From the gruesome massacre of 4 children to the cooking of body parts in curry, we list down 10 of the most bone-chilling murder crimes in Singapore.
WARNING: The content may be disturbing for some individuals. Please read with discretion.
1. Queenstown "Sniper" Shooting (1972)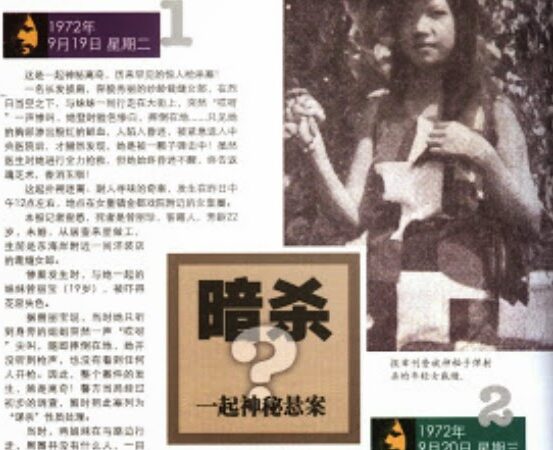 On the fateful day on 18 September 1972, 22-year-old Malaysian seamstress Chen Li Zhen (Zhen) was walking with her younger sister along Commonwealth Avenue when she collapsed all of a sudden.
Zhen was immediately sent to Singapore General Hospital but was pronounced dead after 11 hours of unconsciousness. A x-ray diagnosis revealed that she was fatally wounded by a bullet that pierced her upper left chest and hit her heart. It was suggested that she was sniped from a nearby high-rise building, thus forming the infamous "Queenstown Sniping Murder" case.
An autopsy later confirmed that the bullet was a .22 calibre round, presumably fired from a handgun. This led to speculations that the gunshot may have been due to an accidental discharge from close range. However, hundreds of interviews with nearby residents and dozens of ballistic tests with registered guns owned by civilians have failed to produce any concrete evidence.
Due to a lack of witness and motive for the murder, the "Queenstown Sniping Murder" was classified as an accident but remains an open case till this date
Read more: Mystery of the 1972 Queenstown Sniper Shooting Incident
2. Huang Na Murder (2004)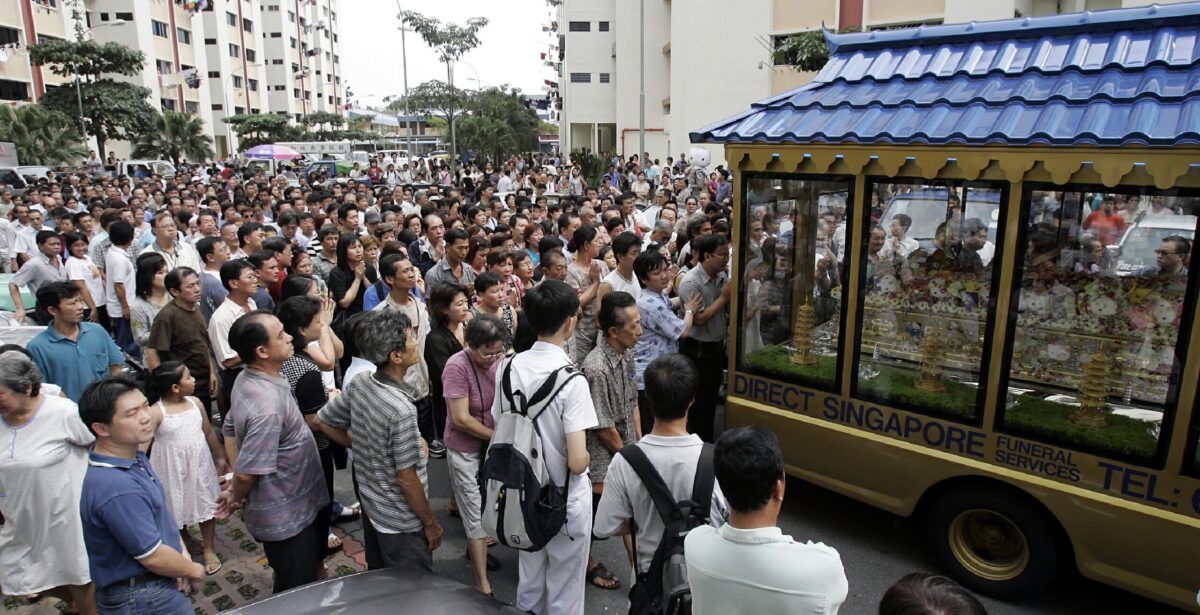 On 10 October 2004, Huang Na, a primary two student at Jin Tai Primary School went missing at Pasir Panjang Wholesale Centre where her mother Huang Shuying was working.
This led to a nationwide search for Huang Na with support from the police force as well as volunteers. The search later extended to major cities in Malaysia including Johor Bahru and Kuala Lumpur.
Took Leng How, a vegetable packer at the wholesale centre and close friends of the mother-daughter pair was investigated as the main suspect in Huang Na's disappearance. In an escort to the police station for a lie detector test, Took escaped and fled to his hometown in Penang, Malaysia
You may be interested in: The History Behind the Haunted Matilda House 
On 30 October, nine days after his escape, Took surrendered to the Malaysian authorities and was extradited back to Singapore. Took confessed to bounding and sexually assaulting Huang Na before strangling her to death in a game of "hide-and-seek". The body of Huang Na was then wrapped in plastic bags and sealed in a cardboard box before being dumped at Telok Blangah Hill Park.
Took was hanged on 3 November 2006 after the rejection of an appeal and a clemency petition from the public to spare his life.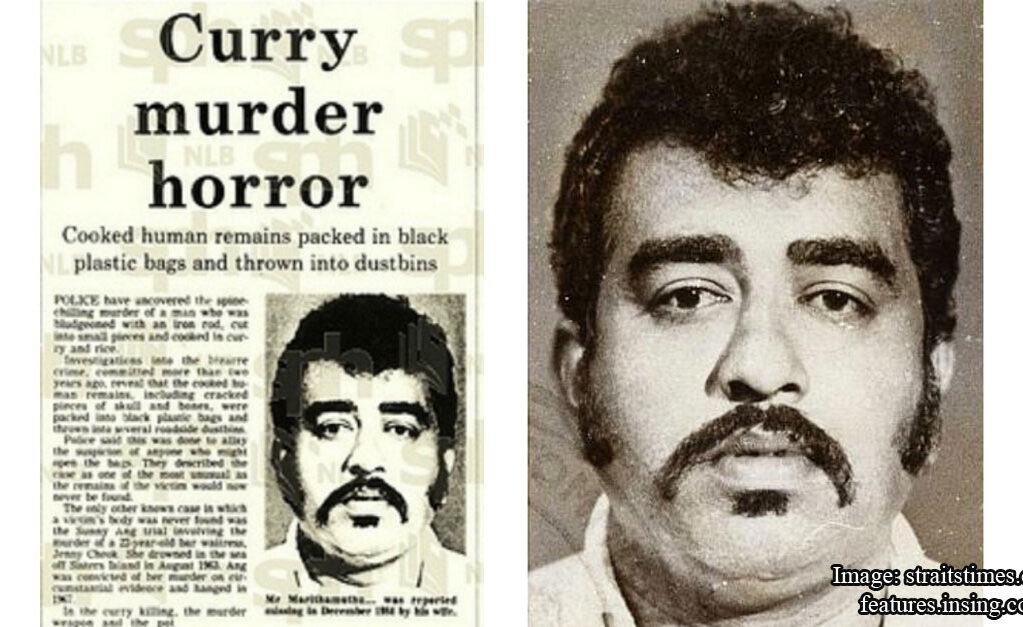 On January 1987, Detective G. Alagamalai received details from his informant that a man named Ayakanno Marimuthu had been murdered and butchered into pieces before being cooked in curry. In spite of the bizarreness and lack of evidence, Alagamalai launched an investigation into it. 
It was soon revealed that Marimuthu has been on the missing-persons database since December 1984. A further investigation led to the arrest of eight suspects including Marimuthu's mother Kamachi Krishnasamy, his wife Nagaratha Vally Ramiah, Ramiash's three brother Rathakrishnana Ramayah, Shanmugam Chandra and Balakrishna Ramiahbother, as well as their wives.
Details of the gruesome murder was soon divulged by one of the suspects. On the fateful day, Marimuthu was brought to Orchard Presbyterian Church where he was bludgeoned to death and chopped up into small pieces by Balakrishna who was a butcher at a mutton stall. The remains of Marimuthu was then cooked with rice and various spices in a large aluminium pot before being packed into black plastic bags and dumped at various roadside bins.
Six of the eight suspects were charged. However, despite the details of the murder, all six with acquitted and released due to insufficient evidence; neither the remains, the murder weapon or the cooking pot were found.
You may be interested in: Dissecting the 1984 Curry Murder
4. Toa Payoh Ritual Murder (1981)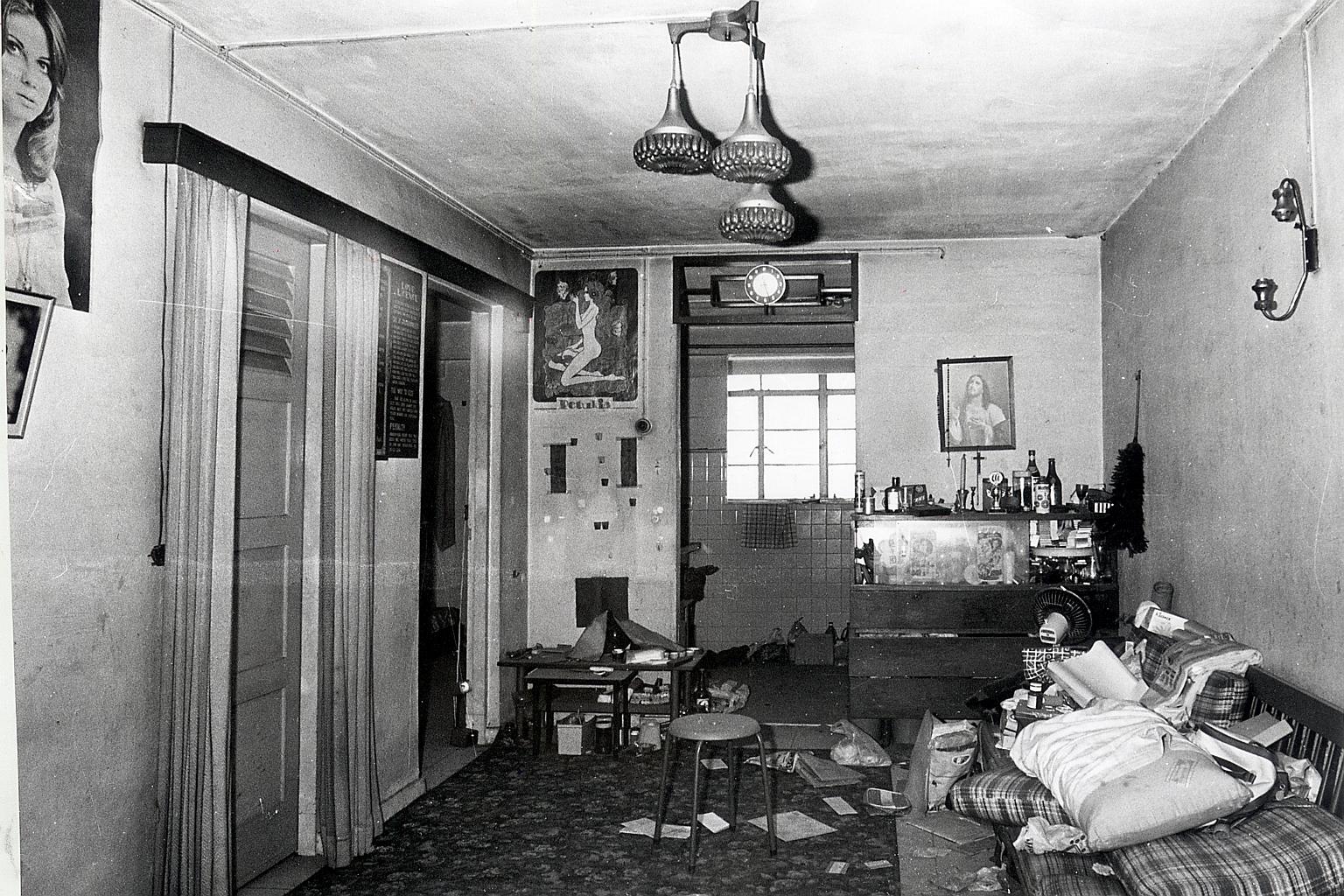 The horrifying murders was first brought  to light on 25 January 1981 when the body of nine-year-old Agnes Ng Siew Hock was found in a bag next to a lift at Block 11, Toa Payoh Lorong 7. Injuries revealed that she was sodomised and sexually abused before being suffocated to death. A second body, the remains of ten-year-old Ghazali Marzuki, was found at Block 11 two weeks later on the 7 February. Burn marks and signs of drowning was found on his body.
Police on the scene of Ghazali's death were then led by a bloody trail to a flat occupied by Adrian Lim, his wife Catherine Tan Mui Choo, and mistress Hoe Kah Hong. Lim is a charlatan medium who for years, had tricked multiple women (including Tan and Hoe) into offering money and sexual services in return for 'cleansing the evil' and increasing their beauty and fortune.
Various religious items were also found in the flat, including pictures of Jesus Christ, and Hindu and Chinese idols; some where smeared with blood.
All three admitted to the murders, confessing that it was an act of revenge against the police for the constant questioning on a rape case that Lim claimed he was framed.
The reported acts of sexual abuse and consumption of human blood during the murder of Ng and Ghazali drew widespread attention from the public. On 25 November 1988, nearly seven years after their hedious crimes, the trio were hanged. 
You may be interested in: Unveiling The 1981 Toa Payoh Ritual Murders

5. Geylang Bahru Tan Family Murders (1979)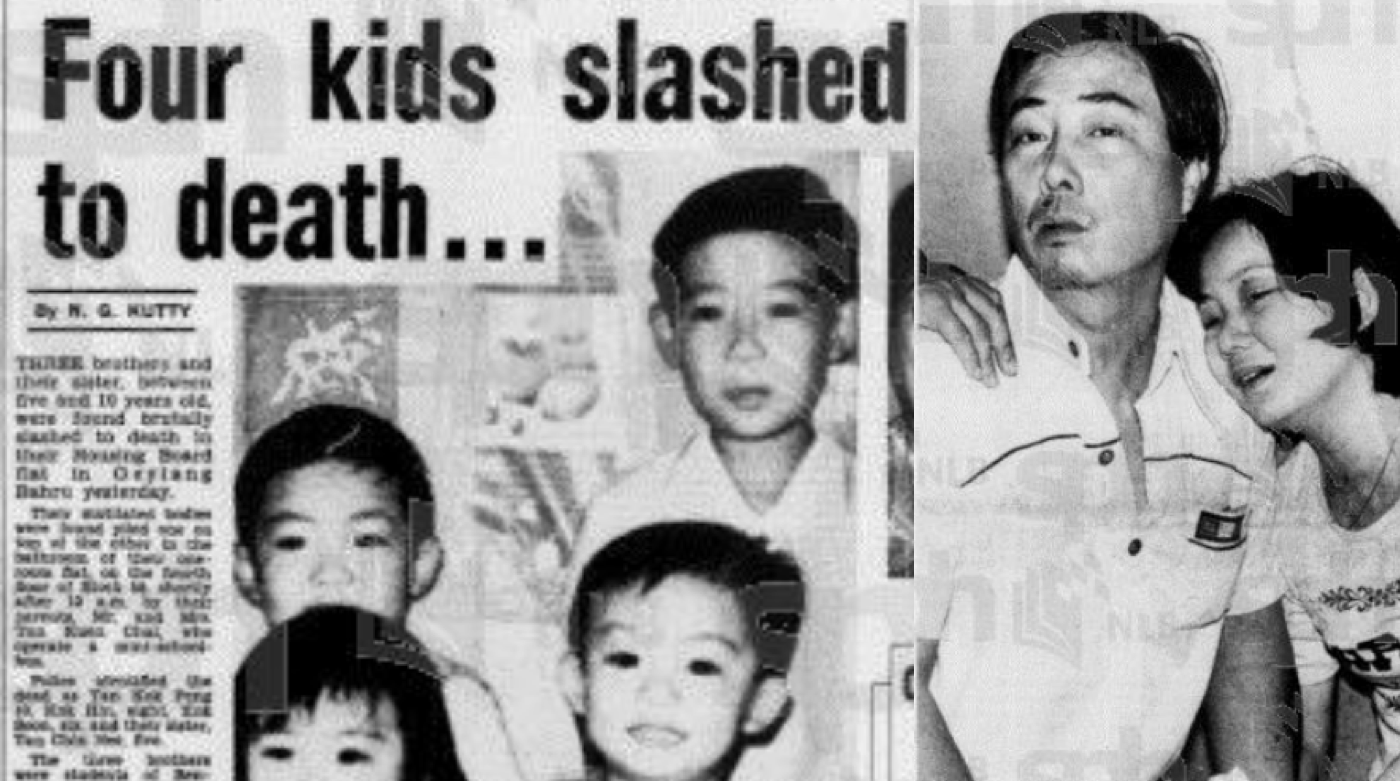 On the morning of January 6, 1979, four children in the Tan family, aged between five and ten, were found brutally slashed in the bathroom of their one-room flat at Geylang Bahru. The children—Tan Kok Peng, Tan Kok Hin, Tan Kok Soon and Tan Chin Nee—were due to leave home for school while their parents, Tan Kuen Chai and Lee Mei Ying, were already at work ferrying students in their mini-bus.
Each child had suffered over twenty slashes to their head and bodies. The right arm of the eldest child, Kok Peng' was almost severed while Chin Nee, the youngest child, had slash marks on her face.
There was no evidence of forced entry and no items were reported missing. Combined with the bloodstains in the kitchen sink which suggested a cleanup by the perpetrator, it is generally  believed that it was a premeditated murder by a close contact of the Tan family.
Two weeks after the murder case, the parents received a Chinese New Year card addressing them by their nicknames "Ah Chai" and "Ah Eng", and writing "Now you can have no more offspring ha-ha-ha" in Mandarin. The message was a reference to the mother's sterilisation which was a well-kept secret only known amongst her close friends and relatives. With the signing off of the card as "The Murderer", this confirmed the theory that the murderer was a close member of the family.
However, in spite of hundreds of interviews with neighbours and possible suspects, little information can be obtained. Till today, the case remains open, waiting to be solved.
Read more: Unsolving The 1979 Tan Family Geylang Bahru Murders

6. Bukit Batok Nature Park Murders (2000 & 2008)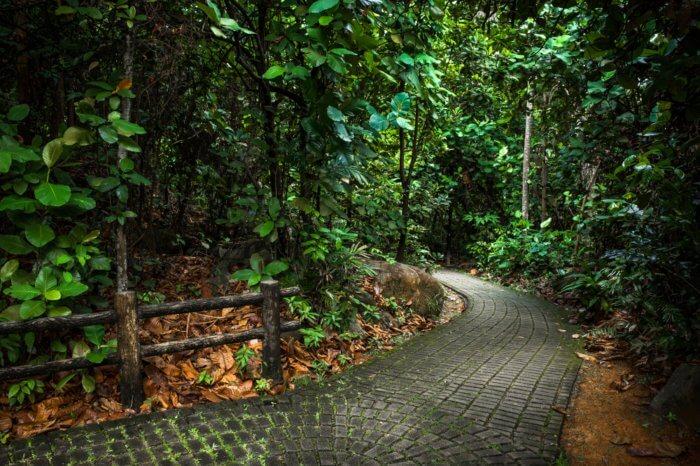 Two vicious murder happened in Bukit Batok Nature Park, eight years apart.
In 2000, 26-year-old Linda Chua was attacked during her morning jog in the park. She was later found naked in a 10-metre ravine with a bloodied nose and mouth after her cries for help were heard by passer-bys. She passed away a week later after the assault. The case remains unresolved.
Eight years later in 2008, the decomposed body of 47-year-old Choo Xue Ying was found along the slopes at Lorong Sesuai. Choo, a property agent, had gotten into an argument with Rosli Yassin over money unreturned. In a fit of anger, Yassin punched her in the head and face. After threats by Choo to call the police, Yassin snatched her mobile phone and struck her repeatedly in the head. He then carried the unconscious Choo to the bottom of the slope and left her to die.
In 2019, the bodies of a Japanese mother and son was found at the top of the hill. The boy, aged 5, was found motionless in the car while the woman, aged 41, was lying outside the vehicle. A will was allegedly found in the car although this has not been confirmed.
7. Orchard Tower Murder (2002)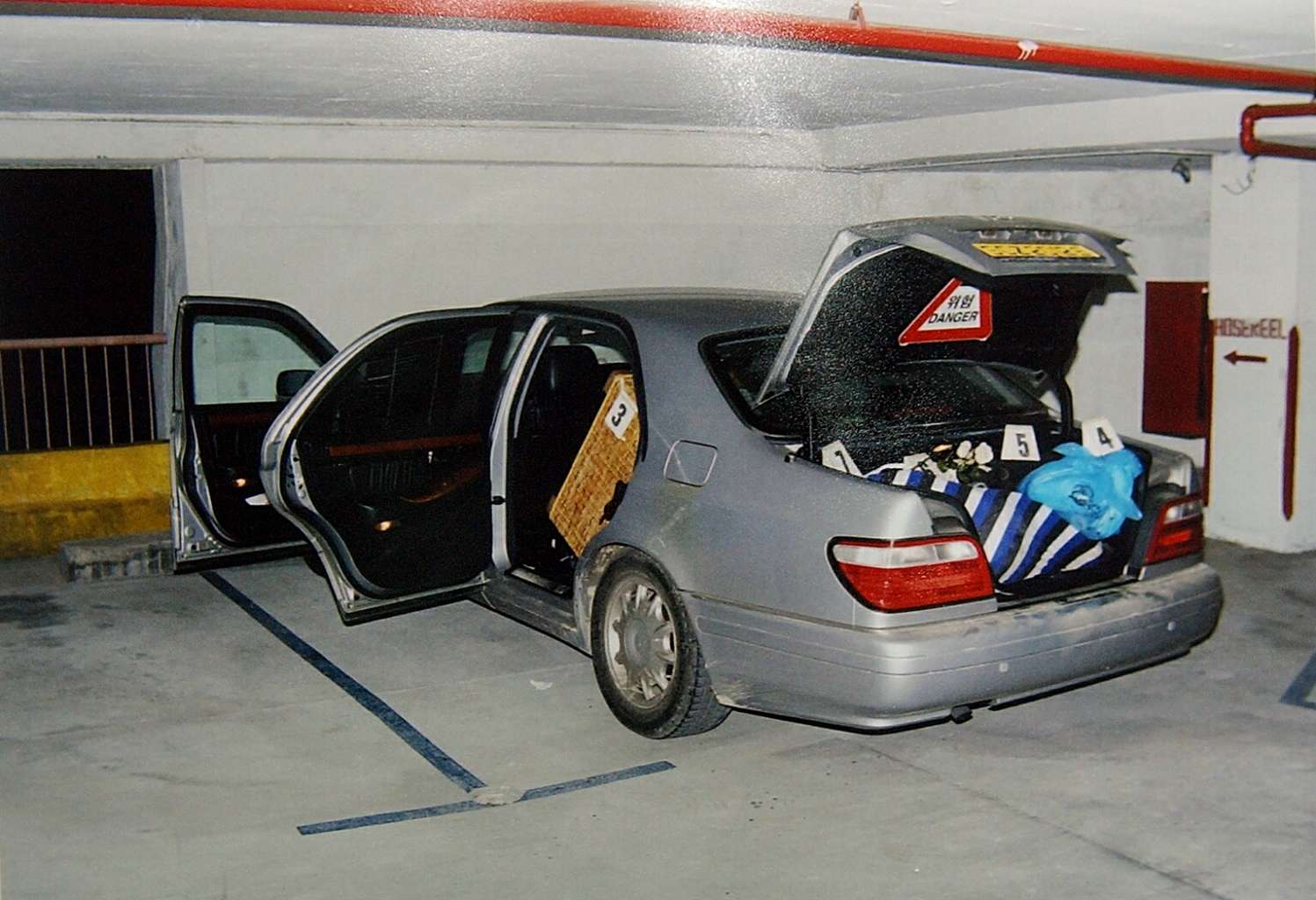 On 7 January 2002, the decomposing body of Kho Nai Guan and his girlfriend Lan Ya Ming was found in the boot of a car parked on the seventh floor of the Orchard Towers carpark.
It was later discovered that Michael McCrea, a British financial adviser murdered his driver-and-friend and the latter's girlfriend in his apartment at Pinewood Gardens.
The horrific murder was triggered when Kho made a derogatory remark at her girlfriend Audrey Ong Pei Ling, calling her a "jian huo", or 'slut' in Mandarin. Angered by Kho's remark, McCrea punched and strangled Kho to death. Lan, who was also at the scene, was knocked unconscious and detained in the apartment. She eventually died from suffocation when McCrea placed plastic bags over her head.
McCrea then obtained the help of two friend, Gemma Louise Ramsbottom and Justing Cheo Yi Tang to clean up the apartment and dispose the body.
The body of Kho was stuffed in a wicker chest while Lan's body was wrapped in blankets and bedsheets. Both bodies were then deposited in the back of a car and left abandoned in the carpark at Orchard Towers.
Ong was eventually sentenced to 12 years imprisonment in 2003. McCrea avoided the death penalty but was awarded the maximum sentence of 24 years in jail in 2006.
8. Yishun Triple Murder (2008)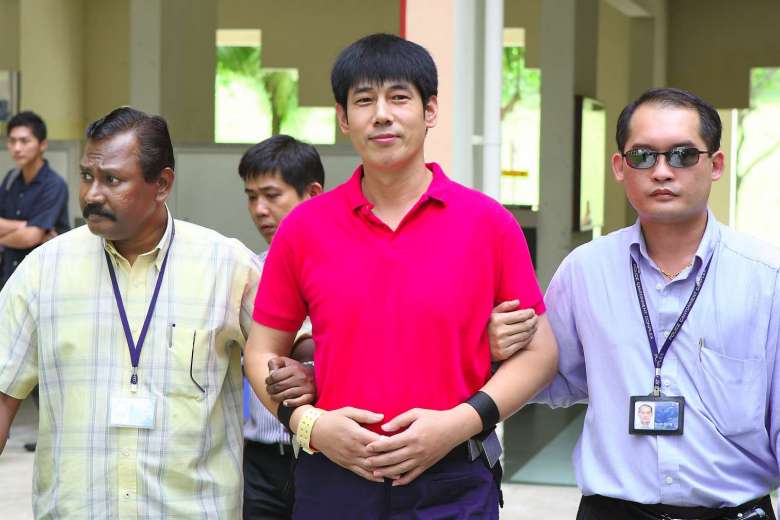 On the evening of 18 September 2008, Chinese national Wang Zhijian got into a spat with his lover Zhang Meng over money to buy crab for dinner.
Humiliated and antagonized, Wang assaulted Zhang in her sleep, stabbing and slashing her 48 times. Wang then proceeded to kill Zhang's 17-year-old daughter Feng Jianyu; the pair suffered a total of 98 stab and slash wounds.
Zhang then turned on another mother-daughter pair who were also staying in the same apartment. He enter the bedroom of the pair and attacked then 15-year-old Li Meilin. Her mother Yang Jie fled out of the room to the kitchen ledge but fell six storey to her death after Zhang had cut her hands which were holding on to the bamboo pole holders. Zhang then returned to attack Li, who managed to survive the attacks after being slashed her multiple times in the head, face and neck. 
In spite of his appeal citing his mental condition, Zhang was sentenced to death on 28 November 2014.
9. Amber Beacon Tower Murder (1990)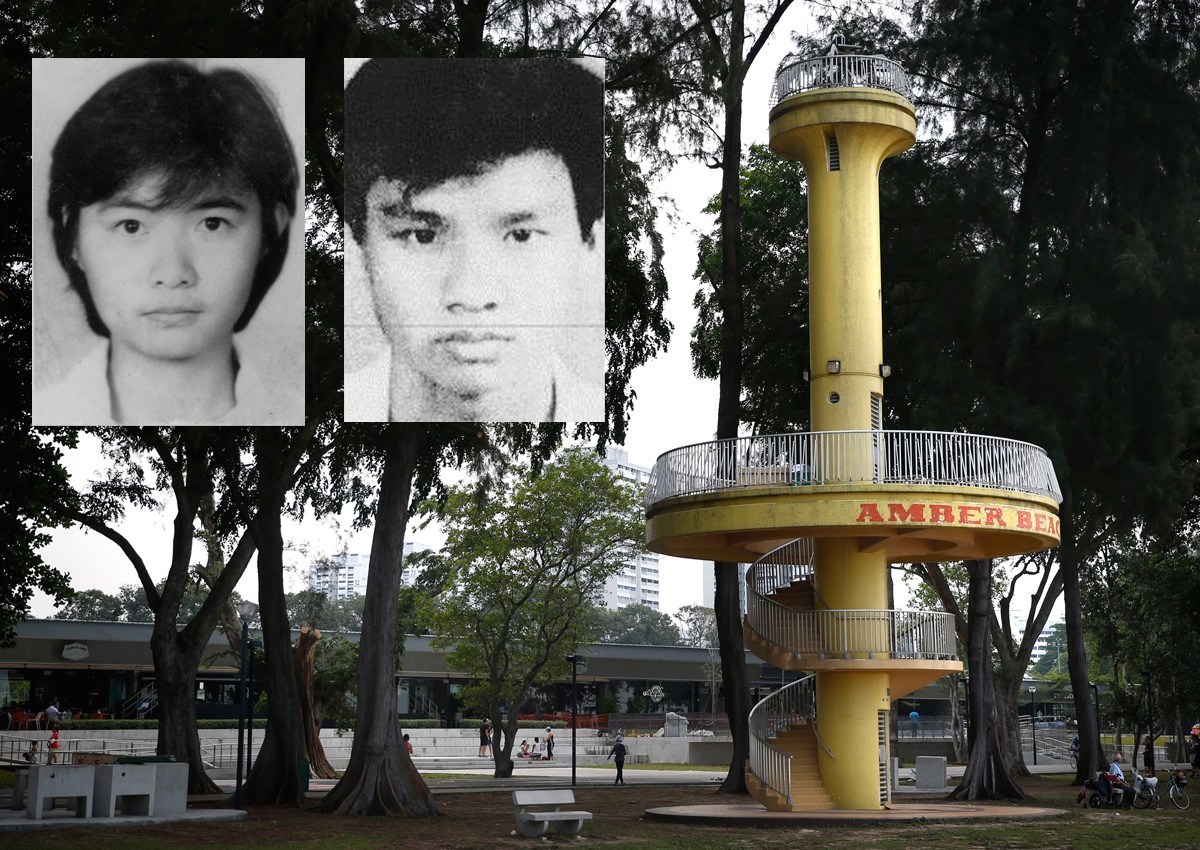 It was May 15, 1990 when 22-year-old James Soh and 21-year-old Kelly Tan Ah Hong were sitting on the spiral staircase at Amber Beacon Tower. The two had known each other for almost a decade and it was only the third day since they started dating. 
Two masked man then ran up the stairs, past the couple before assaulting them from the back. Soh was stabbed in the back but fended off further attacks by throwing his assailant over the rail. Tan, who was stabbed on the left of her neck, managed to run to the ground floor before collapsing.
Still conscious and mobile, Tan ran to a nearby restaurant for help. Both were rushed to Singapore General Hospital. Soh survived the attack with the knife barely missing his spinal cord; Tan died two days later from the fatal blow.
The murder case was highly publicized in the media due to the indiscriminate nature of the attacks. Till date, the assailants were never found and the crime remains unsolved.
10. Kovan Double Murder (2013)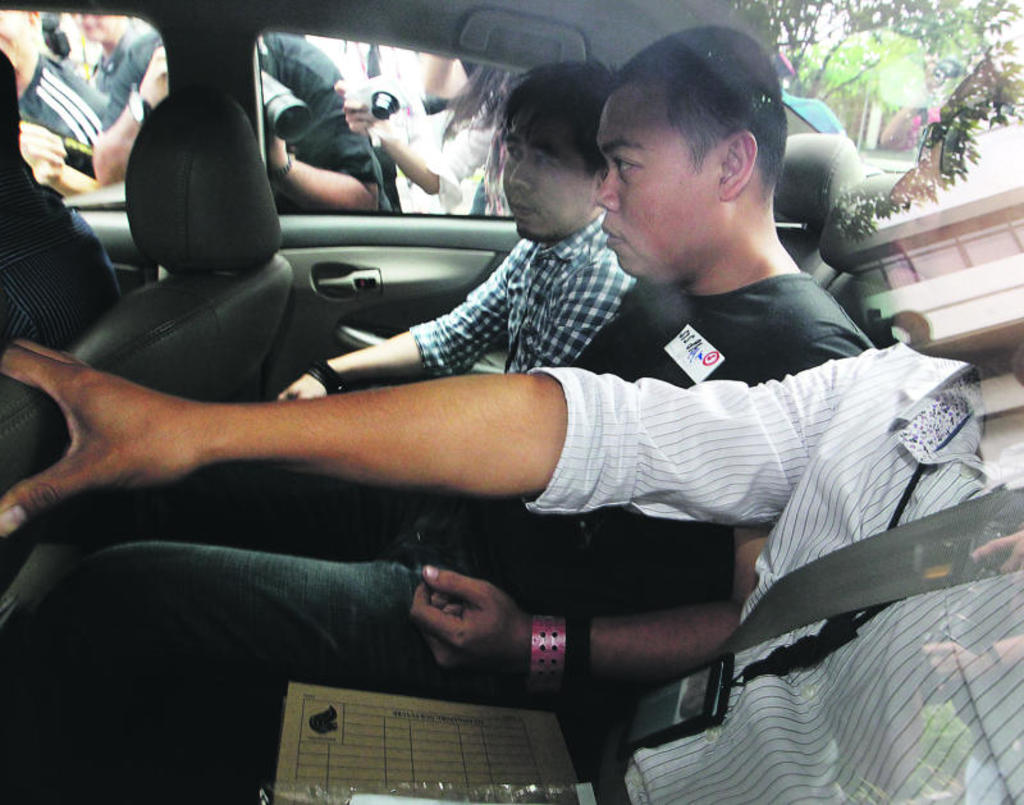 On 10 July 2013, repulsed passer-bys watched as a body was being dragged underneath a car for over a kilometer before being dislodged in a bus stop near Kovan MRT Station. It was the body of Tan Chee Heong. The bloody trail led to a house at Hillside Drive where the lifeless body of his father, Tan Boon Sin, was found. Both had suffered multiple stab wounds to the face, neck and chest.
The murder traced back to November 2012 when then-police officer Iskandar Rahmat was made aware of the older Tan's wealth when he reported the theft of S$35,000 from his safe deposit box.
Facing bankruptcy and dismissal from the police force, Iskandar hatched an elaborate plot and convinced Tan to withdraw all his deposits before proceeding to rob him at his home. In a scuffle, Iskandar killed Tan with a knife. The younger Tan was subsequently murdered upon arriving home to witness the murder. His body, which collapsed behind Iskandar's getaway car, was lodged underneath the vehicle and dragged for nearly a kilometer, leaving behind a bloody trail that led to the discovery of the murder case.
 In 2015, Iskandar received the death sentence for his heinous crime but the case remains ongoing as he had filed for a disciplinary tribunal probe into his trial defence team for failure to prolong his trial.
Want to know the latest outdoor, sports and fitness events and promotions in Singapore?