exploringsingapore is exclusive ExplorerSG mini series where we reveal some of the lesser-known places, facts and history of Singapore.
Completed in 1910, the majestic Anderson Bridge was built to alleviate traffic on the adjacent Cavenagh bridge — the oldest existing bridge in Singapore. It was named after the Governor of the Straits Settlements and High Commissioner for the Federated Malay States, Sir John Anderson who officiated the opening of the bridge on 12 March 1910. 
The structure, which spans 61 metre long and 24.5 metre wide, comprises three main steel arches stretching over both ends and support steel ribs across them. The main structural components were imported from Britain while other steelworks such as the bronze lamps and iron castings were handmade in Singapore.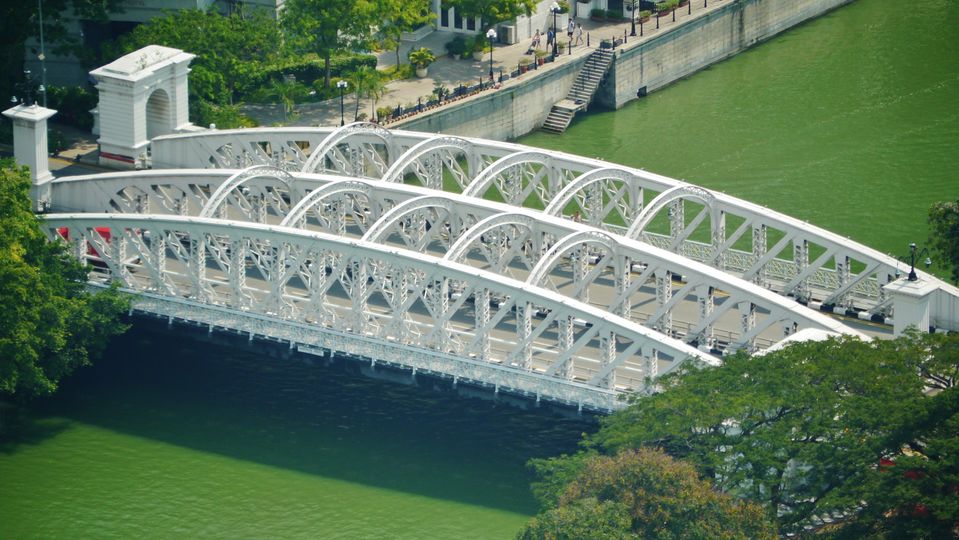 Bronze lions were originally featured in the design phase but was left out for economic reasons. A red granite plaque imported from Aswan, Egypt can be found at the end of the grider and is inscribed with names of those who have contributed greatly towards the project. During the Japanese Occupation from 1942 to 1945, severed heads of spies and criminals were hung on the steel arches to discourage citizens from breaking the law and disobeying the Japanese Army. In 2008, the bridge was included as part of the F1 Singapore Marina Bay Street Circuit. Separately in 2019, it joined Cavenagh Bridge and Elgin Bridge — collectively known as the Singapore River Bridges — to be gazetted as the 73rd National Monument of Singapore. (Image credits: National Archives of Singapore, Zairon)
Want to know the latest outdoor, sports and fitness events and promotions in Singapore?